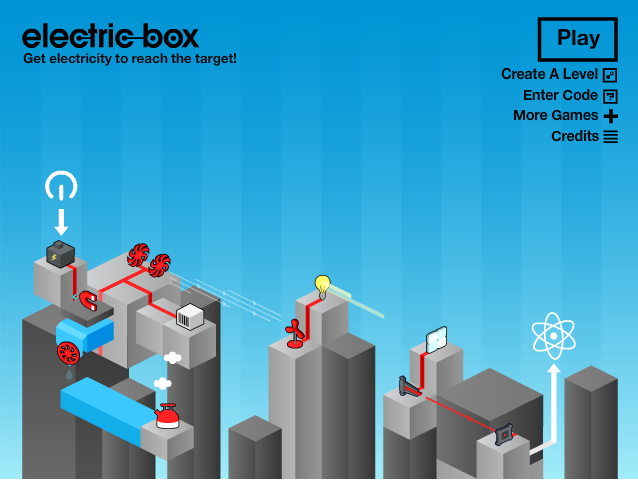 What is this game about? How would you describe it to a friend?
This game is all about circuits. They give you information about the items they give you to complete the circuit of each levels ie: "Solar panel-used to create energy' etc. It also allows you create your own levels after you have completed their set levels!
What's fun about it?
The real fun comes from the strategy that the game presents. It is challenging but the sense of accomplishment is worth it.
In what ways do you think it made you smarter and how did it accomplish that?
I think it helped with my problem solving skills while also teaching me about the different components that make electricity, and how they all fit together to create a circuit. Each level became more challenging, with more components. Hovering your mouse over the object will give you a complete overview of the objects abilities.
Be honest and rate it – 1 for B O R I N G through 5 for highly addictive.
This game is definitely not highly addictive. It's interesting enough to play if you are up to the challenge. It slowly becomes more addicting as you keep playing-depending on if you don't become frustrated first. It also could feel too slow paced at times.
What would you change to make this game more appealing to girls?
I would make the pace of the game a bit faster. Making a small change in the circuit makes you wait for the whole process all over again (a slow process). This game does become tedious and boring after a while because of that. I typically like strategy games so I did like the game overall. I do think that the appearance of the game is good so there would be no need to change that.