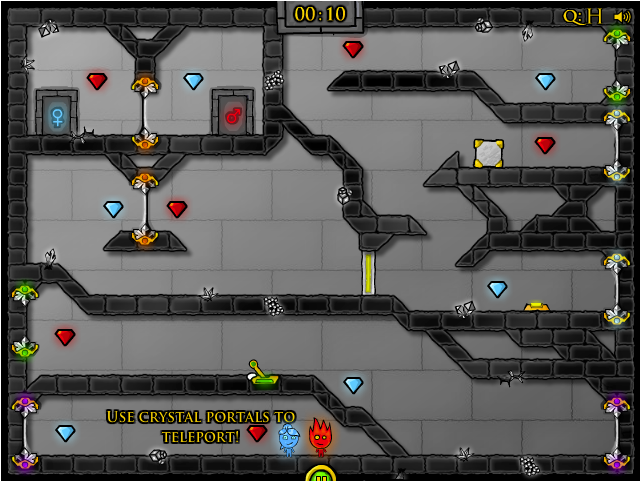 What is this game about? How would you describe it to a friend?
 
In this game, there are two characters, Fireboy and the Watergirl. You have to move them around the scene to collect all of the coins and to get them to their assigned doors to complete the level. Two people can play the game, controlling one character each, or 1 player can control both characters.
 
What's fun about it?
 
The fun part about the game is that you're kind of on an adventure. It is fun going through the temple and using all of the aids to help get to certain locations. There is never really a spot where you are stuck, you can always keep moving.
 
In what ways do you think it made you smarter and how did it accomplish that?
 
This game helped test my problem solving skills because I needed to move the players around and go through all of the obstacles. The characters have different abilities than each other so you must find a way to get through the obstacles depending on their ability and to use one character to help another character. I did not play with a second player, but it is possible to play with another person. This would test ones communication skills and teamwork skills. One character needs to do a task for the other player to do theirs, so it takes a lot of communicating to accomplish the task together.
 
Be honest and rate it – 1 for boring through 5 for highly addictive
 
I would rate it a 5 because it was very addictive. I almost finished the whole game, the first time I played it. This game was a little challenging at some points, but it was still possible to win each level, which made me want to keep playing.
 
What would you change to make this game more appealing to girls?
 
I wouldn't change anything to make this game more appealing to girls. I think a girl has the same likelihood of playing the game as a boy does. There is even a girl and a boy in the game.