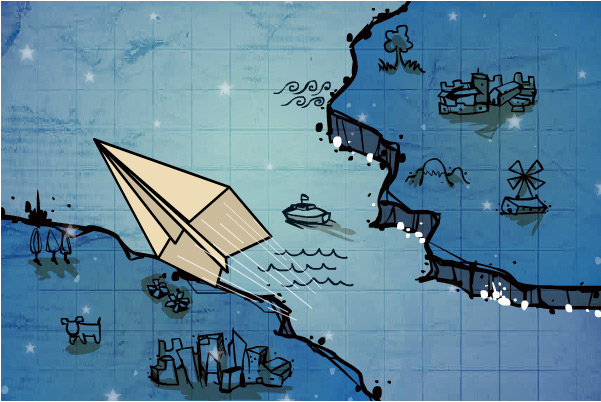 What is this game about? How would you describe it to a friend?
The objective of the game is to use your mouse to throw a paper plane as far as possible, travelling from one place to another geographical destination. You can also upgrade your plane to throw it further. As your plane travels, it will collect stars which will then give you 5$ for every star collected. Using the money you can buy powers or tools to upgrade your plane or its flight.
What's fun about it?
I think this game is fun because the graphics are really appealing, and the instructions are plain and simple. Also, it gives you a sense of accomplishment after every throw as it shows you travelling further and further to your destination.
In what ways do you think it made you smarter and how did it accomplish that?
It doesn't really teach anything except that lighter weight paper planes can fall slower. It teaches you this when you're browsing the store's inventory for upgrades and you float your cursor over a feather icon.
Be honest and rate it – 1 for B O R I N G through 5 for highly addictive.
3- At first it's addictive, however after a while it becomes to repetitive and there's no need for you to think critically. Also, this game is so simple that it can get tiring after three to four rounds.
What would you change to make this game more appealing to girls?
To make this game more appealing to girls, I would not change anything about the graphics, as they are attention grabbing. The animation in the beginning introduces the objective of the game very well too. I think the only way to improve this game is to allow changes to the plane to occur as the gamer progresses from level 1 and on. Different types of folding will improve/destroy the plane's aerodynamics, so that is more informative than how it currently lets you buy superpowers to upgrade the plane.