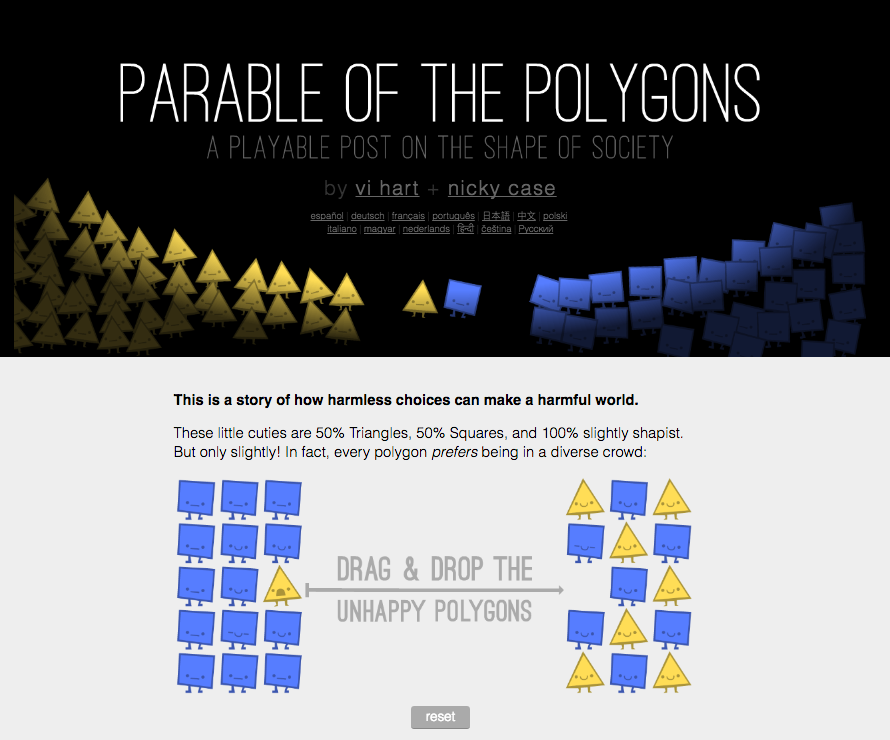 What is this game about? How would you describe it to a friend?
You need to move the polygons in order to make them all happy! Easier said than done.
What's fun about it?
The cute polygons are a bit shapist HOWEVER every polygon prefers being in a diverse crowd. They've got one, simple rule: they want to be moved if more than ⅔ of their neighbours aren't like them. Can you make all the polygons happy? What happens to the diversity of neighbourhoods when everyone is happy?
In what ways do you think it made you smarter and how did it accomplish that?
Although this game can be completed with individual reflection, it is really great for discussion! Putting diversity issues in the context of shapist polygons opens up a lot of analogies and questions about unconscious bias. Being aware of these issues and using this platform for rich discussions will expand anyone's mind.
Be honest and rate it – 1 for B O R I N G through 5 for highly addictive.
If played with other people as a means for discussion, this is definitely a 4! It lends itself to deep reflection and is visually helpful for getting conversations rolling. This is really a one-time play through and isn't meant to be addictive. Share it with anyone else you know who would want to learn more about diversity! Keep the conversation going!
What would you change to make this game more appealing to girls?
This game doesn't have a gender swing because the goal is to reflect on biases, which is important to both girls and boys.