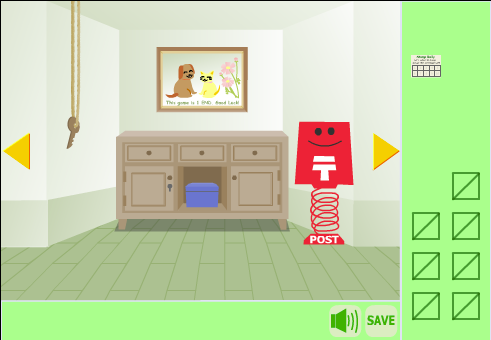 What is this game about? How would you describe it to a friend?
Stamp Rally Escape Game is a point and click type of game where you have to find 10 stamps around the rooms of a house in order to get the main characters, a cat and a dog, home. There are also clues you have to find and obstacles to overcome in order to get the stamps.
What's fun about it?
The fun part about this game is trying to guess random pin numbers and searching around for the hidden stamps. Also, I think it is fun because it gives the player a little challenge and challenges are usually always fun.
In what ways do you think it made you smarter and how did it accomplish that?
I think it made me smarter because it made me look outside the box. In order to get all the stamps you have to stop looking at the most obvious places. Also this game gave me some analyzing skills. For example you have to analyze the clues given in order to find the stamps.
Be honest and rate it – 1 for B O R I N G through 5 for highly addictive.
I rate this game a 3.
What would you change to make this game more appealing to girls?
I also wouldn't change a thing about this game either. It has aspects that both girls and boys look for in games. It isn't gender biased or anything so I think it's the perfect unisex game. For example the two characters in the game (the cat and the dog) are almost like a boy and a girl working together.