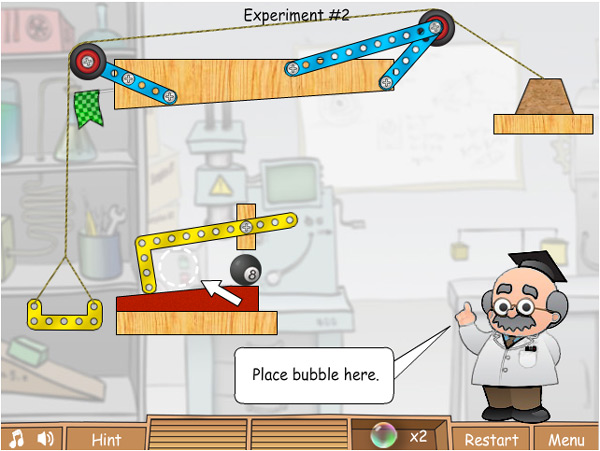 What is this game about? How would you describe it to a friend?
This game is about having the chance to run experiments with a variety of different types of sport balls. Each level, you are trying to get the sports ball to the end where the flag is placed.
What's fun about it?
The fun-ness in the game is that you get to try different things/strategies out in order to get the ball through the obstacle and get it to the flag!
In what ways do you think it made you smarter and how did it accomplish that?
You learn how to limit yourself. This is because they give you a limited number of sport balls, and you have to use them wisely in order to make good moves and get the ball to the flag. A great way to get a strategy in your mind.
Be honest and rate it – 1 for B O R I N G through 5 for highly addictive.
The Successful Experiment would be rated a 3.5. This is because, even though it is a great way to get your mind working with different elements and materials I have a feeling that it will get boring at a point going through the whole game with different levels having the same concept but a different method. Of course it is great to get your mind working with different strategies but having the same concept through the whole game, but personally it would be better if it had a change in the concept.
What would you change to make this game more appealing to girls?
There's not exactly much to be done with it to make it appealing for girls. It is fine the way it is.