Q&A WITH
ENGHero:
Elaine Samuels
Elaine is completing her Master's at Western University and is looking for opportunities to become an Engineer in Training with an environmental engineering consulting firm.
Q#1
What's one thing you wish you knew about engineering back when you were in high school?
I wish I knew that there was a lot more to engineering than just math and science! I really like those aspects, but I didn't realize how important teamwork and communication skills would be. I really enjoy working with other engineers and scientists to create new solutions to problems. The other thing I wish I knew was how interesting and relevant coding (computer programming) would be for all areas of engineering!
Q#2
What's your proudest accomplishment as an engineer?
My proudest accomplishment so far would be my Final Design Project in Fourth Year of my undergraduate degree. My group was responsible for designing a school in rural Guatemala under a strict budget of only $25,000. We worked with the Canadian NGO that was fundraising for the school to make sure it would suit the needs of the community. The school was built in 2014.
Q#3
Tell me about a time in your career when your work has been about discovery or curiosity?
All of my work as a graduate research student has been about discovery and curiosity. I am investigating how climate change in Africa will affect agriculture and I am using a computer model to run simulations. Conducting research is all about asking things like "what is causing these results?" and "how can this process be improved?"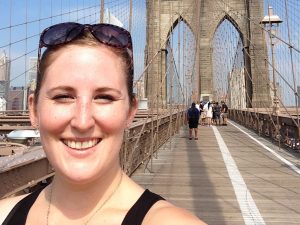 Q#4
What are you doing these days?
I am finishing up my Master's and looking for opportunities to become an Engineer in Training with an environmental engineering consulting firm.
Q#5.
Do you feel your work contributes to society? How so?
I definitely feel like my work contributes to society! Environmental engineers design systems that directly impact the environments we live in. My Master's research has produced results I can share with the World Agroforestry Centre which they can use to guide their policies on food security in Tanzania.
Q#6
Why do we need more female engineers?
More female engineers will contribute to a more diverse engineering culture and bring new perspectives and ideas to engineering problems.
Q#7
When you were becoming an engineer, were you nervous and stressed out about all the math and science? What made you push through and become an engineer? Were you sure that you wanted to become an engineer when you were in gr12?
I have combined my passion for international development with my problem solving skills from engineering to approach global issues both in an outside of school. I am an active member of the Engineers Without Borders chapter at Western University. My interest in international development topics has changed the way I think about engineering; engineering is not just designing new technologies, it's also thinking about how humans and society can positively interact with technology to improve their lives.