Ever wondered what being a university engineering student is like? We interviewed real eng students, getting them to answer all the questions we think you're dying to know the answers to!
What's the "can't miss" Engineering event of the year?
Heather Aitkin, Toronto Metropolitan University: My favourite engineering event is the "Go Eng Girl" event, hosted by the Women in Engineering group. We organize different engineering-related building activities for attendees from grade 6-10… Those kids build the most amazing roller coasters and almost always beat the parent-built roller coasters!
Chandler Button, Western: The annual Western Engineering Competition! There are Participants complete a variety of tasks, including designing a car that goes through a course with hills, grass, mud, and water. It is a 5 hour challenge with a limited amount of supplies (Dollar store items like motors). It's pretty cool to see what people come up with. Everyone is really creative so the results are unpredictable.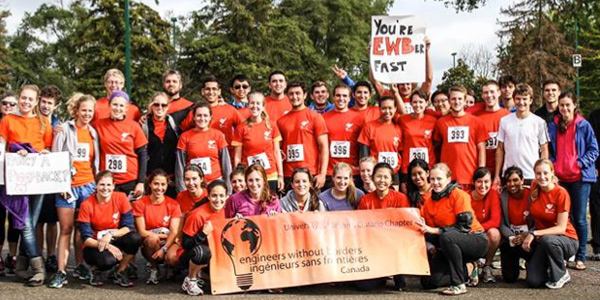 Sharon Flaherty, Western: For me, the "can't miss" Engineering event of the year would have to be the Engineering Formal, which is held in March. It is the best event of the year where everyone sees everyone!
Dany Awad, Ontario Tech University: ENGSOC's Annual Reverse Career Fair. It's basically a career fair where students get to showcase their projects, achievements and professional portfolio to visiting employers. Normally it's the other way around hence "Reverse". It's a great event where you get to speak with a variety of employers and show case your hard work.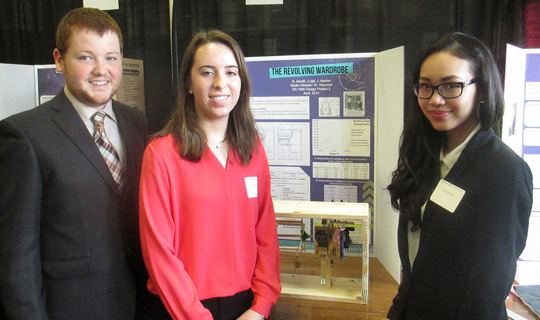 Sabrina Gomez Vila, Toronto Metropolitan University: We celebrates the National Engineering month in March with numerous events. One of them is the Bug Push, a fundraising event for sick kids foundation that consists of pushing a Volkswagen bug around the Quad in our campus for 24 Hrs.
Jordan Hill, Toronto Metropolitan University: There are also a lot of pub nights – engineering students generally don't need an excuse to have a good time.  If you like to get dressed up, we has an event in April called the "Billy Ball" where the dress code is semi-formal and there is dancing, a meal, and an open bar.
How was frosh week?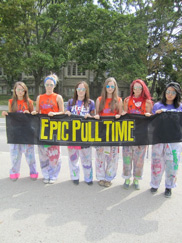 Lucy Davidson, Toronto Metropolitan University: Frosh week is an amazing way to get to know your fellow classmates who you will work with for the next four years. We hold an exiting and jam-packed frosh week that makes you feel part of the community as soon as you step on campus the first day. Engineering has some cool traditions as well. Purpling happens during frosh week as well as lots of other fun actives all over the city. I made some really good friends during frosh week and I'm still very close with them now.
Elizabeth Morrow, Waterloo: Frosh week was the best! It really makes you feel like a part of something crazy and awesome. During frosh week I met some of my best friends, and also my boyfriend. My frosh leaders ended up being an amazing resource for me throughout the year and some of my closest friends, helping me with preparing for co-op and dealing with engineering life.

Tell us about your extra-curricular activities… Why are you a part of it?
Lucy, Toronto Metropolitan University: I love being apart of the Women In Engineering society as I am really passionate about promoting engineering to younger women and showing them what it's really like and how much fun it is.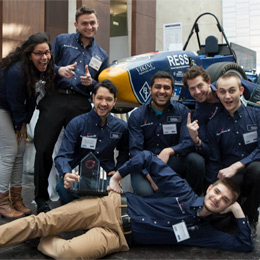 Elizabeth, Waterloo: During my first term, I joined Formula SAE. It was a lot of fun, for a few hours a week we learned 3D modeling and machining, real skills that I could use to get a coop job. I'm also in change of organizing fun events for all the engineers in my year through the Engineering Society.
Carmen Che, Waterloo: Dragon boating… it's a fun, dynamic community that helps me meet people from across all grades. Finding my place in this community was truly an unforgettable experience.
Chandler, Western: I'm a part of BIG SISTER LITTLE SISTER; this is when first year women get paired with an upper student to make a connection. Your 'big sister' helps you with classes and the transition from high school to university… sometimes you even eat lunch with them. In my first year, I was in BIG SISTER LITTLE SISTER. My "big sister" was like my real sister and a good friend. She kept me in the loop and made first year better. Then I wanted to get more involved and become a "big sister" myself, so I decided to run for positions on executive.
Dany, Ontario Tech University: I'm the founder and president of the Ontario Society of Professional Engineers, UOIT Chapter. It all started when I realized that there is more to the actual profession than what we learn in class. Math, science and design are all necessary tools in order to become an engineer but team work, communication skills and time management are just as valuable and you get to learn many of those skills by being involved on campus.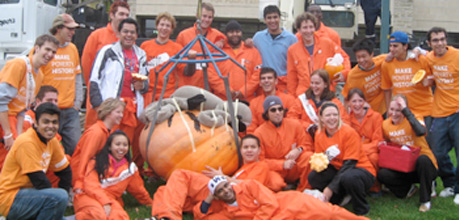 Natasha Phidd, Waterloo: I'm a big reader and often read mystery novels to relax and give myself a break from my studies. I'm also really into dance, so I like to that as well to relax. Also you can't ignore some good retail therapy, my friends joke that I have a shopping addiction, but the truth is that I just really enjoy fashion. Everyone can always tell when I'm walking around in the engineering buildings because I'm one of very few that actually wears heels and makeup, but it's just who I am and my major doesn't have to change that.
What's the best thing about being an engineering student?
Stephanie Irving, Ontario Tech University: The best thing about being in engineering is that you make friends for life. We go through so much together in 4 years that the bonds we make are almost unbreakable.
Lucy Davidson, Toronto Metropolitan University: To be a successful engineering student you have to be dedicated and that's something that's recognized by people. Studying engineering is extremely rewarding.
Taylor Stanbury, Western: Engineering covers a wide range of topics, so what you're really learning is how to be a good problem solver, and you can apply that to anything throughout the rest of your life. It may seem intimidating – it is a lot of hard work – but if you put the effort in, it's worth it.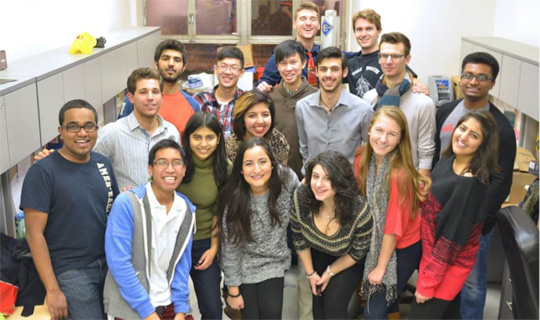 Jordan Hill, Toronto Metropolitan University: The best thing about being an engineering student is how much cool stuff you learn.  First year can be a bit of a drag because you're really learning the basics that will allow you to learn all the cool stuff. But when you get into third and fourth year and realize that you can design something yourself, it makes you feel very proud of yourself.
What's a typical day in your life look like?
Heather Aitkin, Toronto Metropolitan University: A typical day in the life involves attending class from 8AM to between noon and 6pm, depending on the day. After classes and labs have finished, I either work on group projects or go to the library to study for the evening. The majority of the semester has involved long working days, but I make sure to see to my friends and take some time for myself as well. I try to never work after classes finish on Friday. Taking Friday afternoon/evening off every week has been an excellent way to see friends from outside of school and relax a bit. It's good to recharge mentally and do something other than homework.
Elizabeth Morrow, Waterloo: Last school term I would wake up around 8, get to class for 8:30 for 3 hours of lectures until lunch. The top floor of EIT has a little cafe with grilled cheese sandwiches that a few people from my class would get lunch and finish off our assignments due that afternoon. My afternoon consisted of labs and tutorials. After class I would get something to eat, do some work, and then head over to the student shop for a few hours. After that, I might go get ice cream with some friends and catch up with how their programs are going.
Stephanie Irving, Ontario Tech University: A typical day in my life usually involves waking up late, around 11 or 12, then going to class. If I have more than one class that day, I'll typically stay at school to try and get some work done. After I come home, I'll make dinner, finish any work I didn't do and then watch TV. My day usually lasts until 2 to 4am. (Others prefer to get up earlier and go to bed earlier, I like to be a night owl)
What should all high school students know about engineering school? Looking back, what do you wish you knew?
Heather Aitkin, Toronto Metropolitan University: Thinking back to why I didn't like any of my classes in High School, I think it was largely because I didn't see how any of it was applicable to what I would end up doing. I now realize that I missed an opportunity to recognize my strengths in design and creative thinking, and I missed the opportunity to see how much I enjoy calculating out answers to problems that I understand. Engineering is SO APPLICABLE to everyday things, but I had never thought of it that way when I was in High School.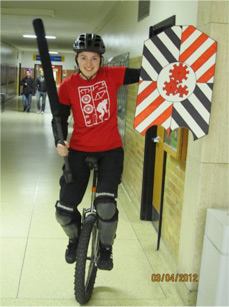 Tim Carroll, Toronto Metropolitan University: I wish I knew that engineering is basically a program devoted to leaning how to problem solve, independently use critical thinking and being able to communicate your ideas.
Elizabeth Morrow, Waterloo: High school students should know that engineering is hard but not impossible. Don't be scared off. Also the rumors about having no social life aren't true at all. I've met some of my best friends in engineering, and being stressed out sometimes during the week results in some pretty funny adventures on the weekends.
Sharon Flaherty, Western: All high school students should know that if you're interested and passionate about engineering, it's very doable. The community is very inviting.
Jordan Hill, Toronto Metropolitan University: Creativity is far more important than a high IQ. Yes, being very intelligent is useful when it comes to acing that calculus test – but after second year, a lot of your courses will have a design project component which requires a little more independent, thinking-outside-the-box and a lot less number crunching.
Maxine McCurdy, Toronto Metropolitan University: That it's an option! There are so many engineering jobs out there that this degree can really lead you anywhere. Engineering didn't even cross my mind in high school. It was not the direction I was headed when I finished school. Never was suggested, or thought of at all. I also wish I had known that taking grade 11/12 Science classes are important in keeping your options open!
How is being an engineering student different from any other student experience?
Sabrina Gomez Vila, Toronto Metropolitan University: As an engineer, I have the power to use my ingeniousness to create something radically new and revolutionize the world.
Chandler Button, Western: My fellow classmates are friendly and not very competitive. Even though the course load is heavy, having classes with the same people and working with teams makes me feel like I'm never alone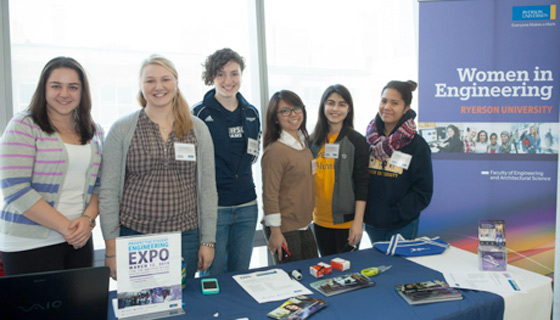 Elizabeth Morrow, Waterloo: Being an engineering student is very different from any other program because the community feels so small. Your profs know you by name and check up on how you're doing, the upper years are your friends and mentors, and every single student's experience is vastly different because of coop.
Emma Helmers, Western: My friends from other faculties were always super jealous about the closeness I had with my peers. Part of the reason that my classmates and I shared such a good relationship was because we received many projects that were time-consuming and challenging, therefore we had to spend time with each other. I think it breeds a good community, good friendships and good teamwork. Even at work now (I just graduated) there's the same sense of teamwork, especially in field work as we get it done as a team.