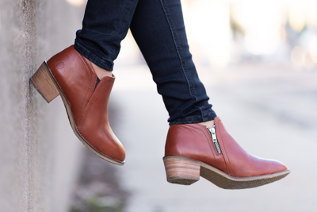 Clothes play a huge role in our self-esteem – they allow us to express who we are and help boost our confidence in our daily lives. Feeling good about yourself has many benefits, and can even make your work better.
This led project engineer Anastasia Kraft to start Xena Workwear and make a fashion-forward steel-toe shoe for women working in STEM fields!
In many STEM industries, you have to wear steel-toed boots while at on-site facilities. These boots help protect your feet from injuries.
For a long time, many female engineers have felt frustrated or have struggled with confidence in these places because of the shoe options available to them. Steel-toed shoes have classically been designed for men. Because of this, they can often be bulky, masculine looking, and hard to transition from on-site locations into the office. The more feminine options available are often just smaller versions of men's shoes with a splash of pink on them.
This frustration led Anastasia to create a line of steel-toed shoes for women that are fashionable, trendy and, importantly, safe for work! They currently make 3 different styles of shoes in a variety of colours with vegan and non-vegan options.
The shoes have been met with an incredibly positive reaction from women in the industry!
Because of Anastasia, women have more options to help make them feel good and confident while working. She saw something that was lacking from the engineering world and created a product many now love. By having more girls in engineering, we can make the industry more comfortable and approachable for future generations of engineers so they can put their best foot forward.
---