A great way to get girls excited about STEM is through storytelling. In the past few years, there has been an upsurge in amazing picture books that star female protagonists who delve into the world of Science and discovery. Traditionally books about robots, space, machinery, and science experiments have always focused on boys and science as a male subject. This is why seeing female faces at the center of these books has such an important and positive impact- it sends the message that STEM is for everyone. Check out the list below for 5 picture books that showcase science-loving girls and women who love to wonder, push boundaries, try, fail, and try again, all in the name of science.
Ada Twist Scientist by Andrea Beaty
Recommended Age: 4 – 9
Young Ada has a boundless imagination and has always been hopelessly curious. Why are there pointy things stuck to a rose? Why are there hairs growing inside your nose? When her house fills with a horrific, toe-curling smell, Ada knows it's up to her to find the source. Not afraid of failure, she embarks on a fact-finding mission and conducts scientific experiments, all in the name of discovery. But, this time, her experiments lead to even more stink and get her into trouble! Beaty, who also wrote the book Rosie Revere, Engineer, reinforces the importance of curiosity, perseverance and celebrates life long learning.  http://abramsbooks.com/adatwist/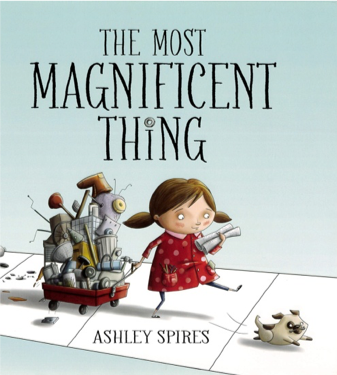 The Most Magnificent Thing by Ashley Spires 
Recommended Age: 4 – 9 (but even adults can benefit from this book!)
This is a charming picture book about an unnamed girl and her very best friend, who happens to be a dog. The girl has a wonderful idea. "She is going to make the most MAGNIFICENT thing! She knows just how it will look. She knows just how it will work. All she has to do is make it, and she makes things all the time. Easy-peasy!" But making her magnificent thing is anything but easy, and the girl tries and fails, repeatedly. Eventually, the girl gets really, really mad. She is so mad, in fact, that she quits. But after her dog convinces her to take a walk, she comes back to her project with renewed enthusiasm and manages to get it just right. The girl doesn't just "make" her magnificent thing — she "tinkers and hammers and measures," she "smoothes and wrenches and fiddles," she "twists and tweaks and fastens." These precise action words are likely to fire up the imaginations of youngsters eager to create their own inventions and is a great tie-in to learning about Science, Technology, Engineering and Math. https://amzn.to/2Ol0imv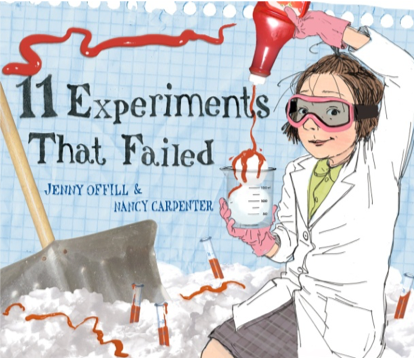 11 Experiments That Failed by Jenny Offill
Recommended Age: 4 – 8
Is it possible to eat snowballs doused in ketchup—and nothing else—all winter? Can a washing machine wash dishes? By reading the step-by-step instructions, kids can discover the answers to such all-important questions along with the book's curious narrator.
Here are 12 "hypotheses," as well as lists of "what you need," "what to do," and "what happened" that are sure to make young readers laugh out loud as they learn how to conduct science experiments (really!). https://amzn.to/2OpbyhI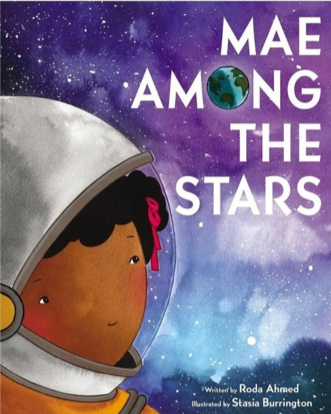 Recommended Age: 4 – 8
When Little Mae was a child, she dreamed of dancing in space. She imagined herself surrounded by
billions of stars, floating, gliding, and discovering. She wanted to be an astronaut. Her mom told her, "If you believe it, and work hard for it, anything is possible." Little Mae's curiosity, intelligence, and determination, matched with her parents' encouraging words, paved the way for her incredible success at NASA as the first African American woman to travel in space. This book will inspire other young girls to reach for the stars, to aspire for the impossible, and to persist with childlike imagination. https://amzn.to/2P4PPZd
The Dinosaur Expert / by Margaret McNamara
Recommended Age: 4 – 8
Mr. Tiffin and his students are back in another picture book, and this time the focus is on dinosaur-loving Kimmy. During a field trip to the natural history museum, Kimmy is thrilled to share what she knows about the Stegosaurus and the Archaeopteryx and even the ginormous Titanosaurus. That changes when one of her classmates questions whether girls can be paleontologists. Kimmy starts to feel shy. What if they can't? What if no one wants to hear what she has to say? It will take some help from Mr. Tiffin–and from a famous scientist–for Kimmy to find her voice again.
Join Mr. Tiffin's class as they learn about dinosaurs big and small, feathered and scaly, winged and ocean-dwelling. And root for Kimmy, the dinosaur expert . . . who might just learn something about herself. https://amzn.to/2O0uK64