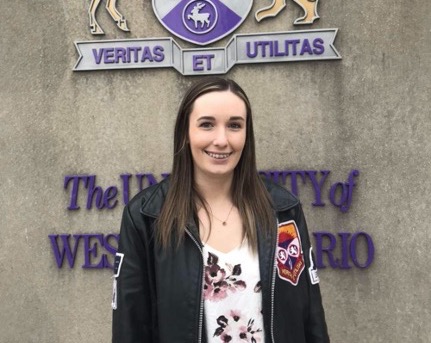 What is one thing you wish you knew about engineering when you were in high school?
I remember going to university open houses and seeing these elaborate design projects that engineering students have made, and I would think to myself, I could never figure out how to make something like that. But now I know that I can figure out how to make those elaborate design. You can build that robot, or concrete canoe, or solar car, or whatever project you put your mind to. Engineering will teach you how to apply what you are learning in class and use this knowledge to work on a team to solve problems, design, and let your creativity run wild. So, I guess what I wish I knew in high school is simply just "yes you can!"
What made you want to pursue engineering?
For as long as I can remember I have enjoyed math, science and figuring out how things work. When looking at university programs, engineering seemed like a faculty that would meet my interests and one that I would very much enjoy. I also like to see the bigger picture as to why I am learning something, and engineering gives you that because you are constantly applying what you are learning in your classes to solve problems and create design projects.
What branch of engineering is your major and how did you decide on it?
I am studying electrical engineering. The reason I decided on electrical was because I really enjoy Physics in first year. The course taught me the basic principles of oscillations, waves, electric fields and potential, DC circuits, magnetic fields, magnetic induction and so much more. In addition, I also found the hands-on lab component of this course interesting. So, it seemed clear that electrical was the right choice for me. However, when I first entered the common first year, I never saw myself pursuing electrical engineering. As a result, I encourage an engineering program with a common first year so that you can explore all your options and figure out what you like.
What do you plan on doing with your engineering degree?
I am currently on a 12-month long work term between the third and fourth academic years, and I am working in electrical reliability. I really enjoy working with industrial power systems, but power distribution is something I would like to learn more about. I am searching for a career that offers learning opportunities, growth and development, leadership opportunities, support for women in engineering, that supports and encourages women to pursue engineering in a field in which they are underrepresented. Through my education and work term experience, I am confident that I will find a post grad career that I love.
What advice would you give to a young female who is considering the field of engineering, but isn't sure if it's right for them?
There are so many possibilities when you are studying engineering and having an engineering degree opens doors to a lot of different career opportunities. Since there are so many disciplines to choose from, and many engineering clubs and teams to be apart of, you are bound to find something that is for you.
Something that helped me realize that engineering was, in fact, the right program for me was that I attended some events at Western University for female high school students interested in studying engineering. These programs showed me what engineering is all about and the hands-on activities taught me that engineering is something that I can succeed in. Not only are these programs great for your confidence but they also answer any uncertainties you may have about engineering. I highly recommend looking into attending events, such as Go ENG Girl , to give you a taste of what engineering really is all about.