Emily Gleeson is an Aerospace Engineering PhD student at Ryerson University, and a recipient of the 2018 Amelia Earheart Fellowship Award presented by Zonta International. She received her Bachelors of Applied Science in Applied Mathematics and Mechanical Engineering from Queens University and worked for several years in project management and logistics and business operations. She decided to go back to school to pursue her passion for Aerospace in hopes to one day become an astronaut, focusing her research on navigation and control of space robotics.

Q#1 What's one thing you wish you knew about engineering back when you were in high school?
I wish I knew that it literally opens the doors for you to do anything. I think that a lot of people just see engineering as construction or manufacturing, but what I've experienced sometimes has nothing to do with that. I lucked into engineering out of high school and I wish I could tell all young men and women who are interested in math, science and problem solving that engineering is a great foundation for many other fields as well, even medicine or law. Engineering is so broad and its more than just the content that you learn. It teaches you how to learn, and that is a great life skill across the board.
Q#2 What's your proudest accomplishment as an engineer?
My proudest accomplishment to date has been transferring from my master's degree straight into my PhD program, with the support of my faculty and advisors. My success in my master's coursework enabled me to shift easily into a higher degree, and I'm one of the very few women in my department right now. I'm very proud of that, but we need more women to get involved as well.
Q#3 Tell me about a time in your career when your work has been about discovery or curiosity?
The projects I'm currently working on are to advance human exploration of space, how much more discovery and curiosity can you get? My research is about innovating guidance, navigation and control systems for space robotics in order to advance on-orbit assembly techniques, near the moon or Mars. That's the basis of my thesis and I'm going to a conference in Germany in the fall to talk about my initial research. I'm basically working towards designing brains for space robots! I didn't realize until I started my PhD how creative you could be in engineering, and I'm lucky that my supervisors let me take control and put my creative spin on my work.
Q#4 What are you doing these days?
Right now I'm working on developing simulations to validate my research, so I envision robots in space assembling structures on-orbit. I'm trying to improve autonomy for space robotics that does not rely on any human interaction. On the International Space Station, they do have robots (go Canadarm2 & Dextre!!), but they need humans to operate them. The further into space you travel, the less you can rely on astronauts and human interaction. Robot autonomy needs to be better, especially in space where the stakes are high; right now on Earth, they can barely even open a door on their own. So we still have a ways to go and that's the type of challenge that really excites me about this field of study.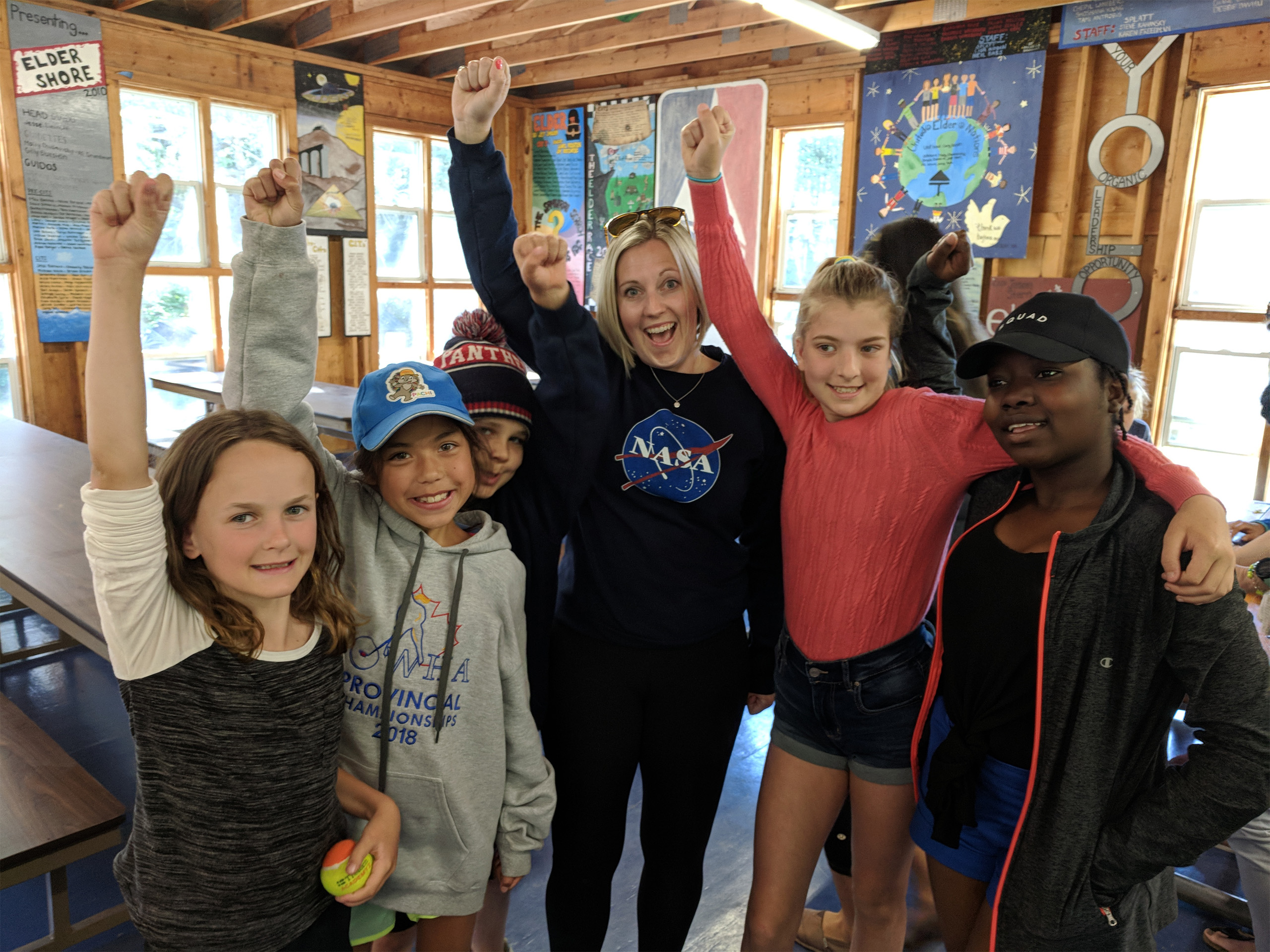 Q#5 Do you feel your work contributes to society? How so?
I like to think that my work can add to Canada's contribution to the modern space race to reach Mars. Space technology has had many big impacts to life on Earth as well such as the internet, weather forecasting and even help answer unknown questions about the universe which are all major contributions to society that people interact with every day.
Q#6 Why do we need more female engineers?
We need more female engineers because we need different perspectives. People work differently, and you make a much better product if you have more ideas to fuel it. If you have a team of people who think exactly like you then you miss things that could be the key to solving the problem. Also, having more women changes the work environment. By having more women around, people start to normalize women in engineering. The world needs to get used to seeing more women in STEM, and that starts by using outreach initiatives to young girls and students who are eager to break into the field and change the landscape.
Q#7 Do you have any hobbies/passions that give you a unique perspective in engineering?
I love travelling because I figure you only get to live once, and I want to see and experience everything. I'm always open to trying new things; if there's an opportunity then I take it. I play a lot of sports as well, which lets me shut off my engineering brain for a bit. I feel like with engineering, or any field really, you need to be able to experience new things outside of your work. Your job can't always be your life. My passion is for space, which happens to be what I'm turning my career in to, but I also have a blog, https://www.spacebroaddity.com/, where I can express my creative side and my love for editing and design. My blog has a few different categories, such as Lady Bosses and how math and science principles are used in the real world, one of my first posts explains how trigonometry is used in robotics! More so I want to reach as many people as I can to let them know that the world of STEM is an exciting place to be with endless opportunities.
Q#8 When you were becoming an engineer, were you nervous and stressed out about all the math and science? What made you push through and become an engineer? Were you sure that you wanted to become an engineer when you were in gr12?
In high school, I was good at math and science but I had no idea what engineering was. I randomly applied because one of my teachers suggested it, and I really went in kind of blind. I think I was naïve to the point where I didn't think enough about how hard it was going to be. I was really confident in high school and thought that I could do anything. Then when I started university, it was more challenging then I thought and I went from being the top of my class to the middle. Part of my advice would be to make sure that you remember why you're doing it. You don't need to be perfect and there is so much that I wish I had taken advantage of in my undergrad. Marks aren't all that matter; early in my undergraduate degree I failed two courses and that was definitely a wakeup call for me but guess what? I was ok, I had to work a little harder to get back on track but I still made it, still graduated on time. Everything was fine, you will be okay!
Q#9 Tell us about a cool project you've worked on.
In my undergrad, I worked on using math to create facial recognition software, before iPhones used it and popularized it. Everything in engineering ends up being pretty simple when you break it down. You use simple principles to create something amazing. So far in my career, I always end up working on the brain/software of the products. Currently, I'm also helping with the navigation software for the DESCENT Satellite that's launching from the ISS in 2019. It's a joint project between York University and Ryerson University and is sponsored by the Canadian Space Agency. Another example of going after every opportunity, I actually applied to be an astronaut when the Canadian Space Agency was recruiting a few years back and I made it through the first three rounds of testing which I was so excited about. Unfortunately, I wasn't starting graduate school until that fall so my experience wasn't where it needed to be, yet 😊