Q&A WITH
engHERO:
Gabrielle Rochino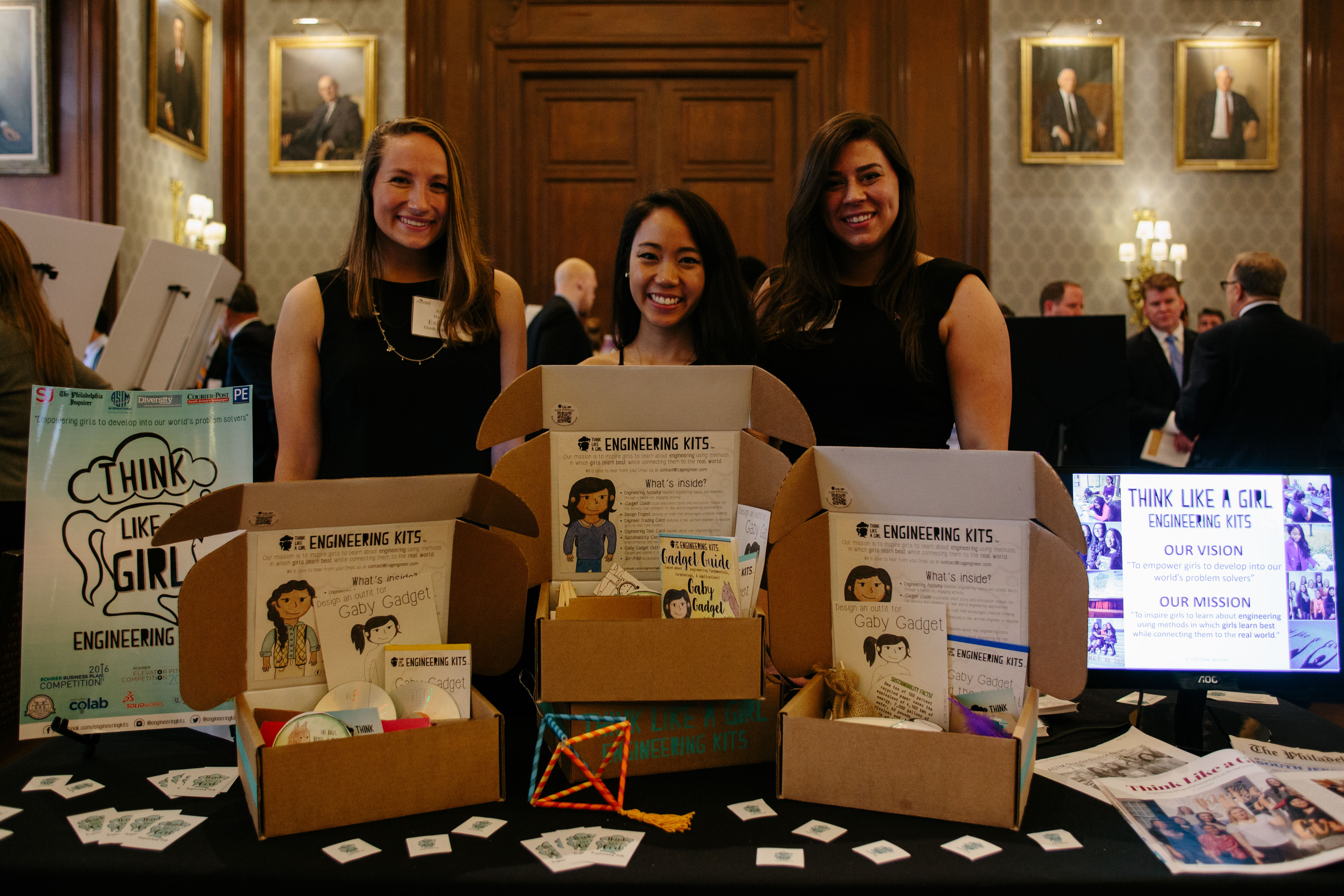 From left to right: Alexis Basantis (Think Like a Girl CCO & Co-Founder), Gabrielle Rochino (Think Like a Girl CEO & Co-Founder), Megan DeGeorge (Think Like a Girl COO & Co-Founder).
Q#1
What's one thing you wish you knew about engineering back when you were in high school?
In high school, two of my interests were engineering and art. I took a lot of advanced art electives, but also my dad and uncle, who are both engineers, made me take a Computer-Aided Design (CAD) elective, because of my dad and uncle, who claimed that CAD could help me become a good engineer. Even though I was one of the few girls in that course, I soon became one of the top students. I always viewed art and engineering as two different sides of a spectrum. I thought that they used two completely different sets of skills. After going through several years of my drafting course, as well as all of my classes in my engineering school, I now know that engineering and art actually work symbiotically to create the best possible solution. A quote that really resonates with me and the realizations I have is: "Art without engineering is dreaming. Engineering without art is calculating." – Steven K. Roberts.
Q#2
What is Think Like a Girl and where did the inspiration for the project come from?
During my junior year of college, I took "Thermal-Fluid Sciences I and II," each 6-credits that combine Thermodynamics, Heat Transfer, and Fluids. Because of this class, it was, without a doubt, the most challenging year of our mechanical engineering program. The challenge of this class definitely brought down my self esteem and really made me doubt my abilities to do engineering. Also, during this year, I also took "Entrepreneurship & Innovation," a business class that's also required in our mechanical engineering curriculum. One of our projects was to write an elevator pitch for a new product. I used the difficulty I was facing junior year in my engineering program, turned it around and used it to inspire Think Like a Girl: Engineering Kits.
I never want girls feeling like there are limitations on what they can achieve just because of their gender. I never want girls to feel like how I felt sitting in my Thermal Fluid Sciences class looking around the room doubting myself because I couldn't relate to any of my classmates. I want to empower girls to achieve great things. I submitted my idea for Entrepreneurship & Innovation and after an online judging process, I was picked as one of the top 10 ideas out of over 85 students who submitted pitches. This allowed me to present my idea to the Rohrer College of Business 2015 Elevator Pitch Competition on April 17, 2015 in front of a panel of judges and I won first place! During the following summer, I wrote a proposal to the Rowan Innovation Venture Fund to have my own section of Engineering Clinic and to receive funding. My proposal was accepted and I was able to develop a team of students to work on developing my idea into a real product and I also received some seed funding from my engineering college.
Q#3
Tell me about a time in your career when your work has been about discovery or curiosity?
During my junior year of college, I was on my school's SAE Supermileage automotive competition team on the aerodynamics team and I was also the primary driver for the 2015 Competition in Marshall, Michigan. Now, I did not particularly have any interest in cars or engines, nor did I have any experience on an automotive competition team, but I was always willing to learn more. While on the aerodynamics team, my primary role was to somehow take the overall shape of the shell of the car that was designed in a CAD software and design a way to fabricate it. The team wanted to somehow create a hard skeleton and then stretch a synthetic plastic fabric over it.
Using my background and skills in CAD software, I independently designed a mold for a fiberglass shell, which the fabric would be sewn onto and then heat shrunk. In addition to my technical background, I also used my creative side to fabricate the shell. When I was younger, my lola (grandma in Filipino), taught me how to sew. As I grew up, I sewed my own clothes, stuffed animals, and purses. I used my sewing skills to nicely sew the fabric onto the car skeleton, making sure that it was as aerodynamic as possible. My entire experience on the Supermileage team helped me become a better and more creative engineer. I learned so much about fuel-efficient, aerodynamic vehicles and the process to build one. I also learned how creative skills are just as important as technical skills when it comes to engineering.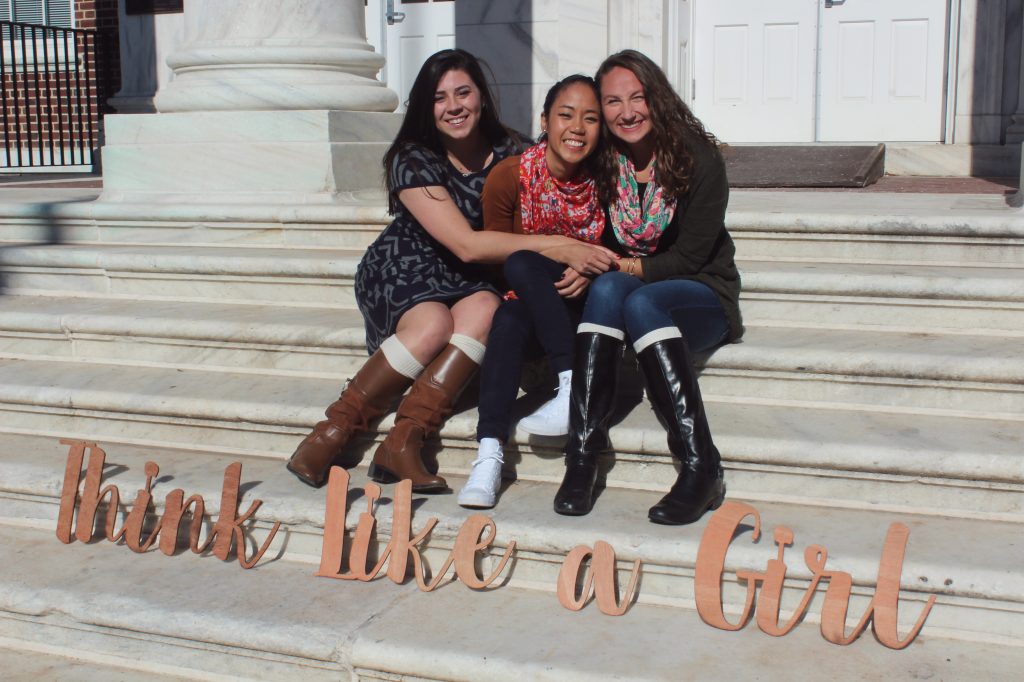 Q#4
Do you feel your work contributes to society? How so?
In the past few months, we performed several focus groups and outreach events with local non-profits, Girl Scout troops, and schools. These events are probably my favorite part about everything that's happening with Think Like a Girl right now. I love seeing the students' eye light up when I explain to them all of the cool things that engineers can make. They're especially amazed by how much engineers are involved in things in their daily lives. Even just educating kids about engineering and having them consider engineering as a possible career choice makes all of this work worth it. The things that I remember the most are when kids ask me more questions about engineering or when they tell me that now they want to be an engineer.
Q#5
Why do we need more female engineers?
Female engineers offer a unique perspective to the table. A story we usually like to share related to this is the creation of the standard "soccer mom" minivan. When it was first designed, it only had one sliding door. This design was created by a male engineer. A female engineer identified that typically, women with shorter arms could not reach across the seats when loading the car from the one sliding door. She redesigned it with an additional side door and now you never see any minivans without two sliding doors.
Additionally, girls need to feel empowered. Encouraging girls to pursue technical fields, such as engineering, will show demonstrate to them that they can aspire to be whatever they want, regardless of their gender. Nothing should hold a girl back from dreaming to do what she wants.
Out of all the engineers in the U.S., only 14% are female (American Society of Mechanical Engineers). The most upsetting part is that this percentage is not expected to increase dramatically in the next decade (Scientific American). I really do love studying engineering. I get to think creatively, but I am also challenged to optimize my designs to be the best they can be. A lot of girls, though, don't believe that engineering is meant for them. According to an in-depth study done by the Girl Scout Research Institute in 2012 entitled, "Generation STEM: What Girls Say about Science, Technology, Engineering, and Math," two of the main reasons why girls don't go into engineering are because of lack of female role models and the misconception of what it is to be an engineer. Additionally, 92% of girls want to be in a career where they can help people.
Most of the time, girls envision an engineer as someone who drives a train or a nerdy guy on a computer. Girl don't see that engineers actually helps out a lot a people, animals, and the environment. Engineers accomplish so many amazing things and so many girls have the potential to thrive in engineering, but just are not exposed to and educated about what engineers do.
Q#6
Is there a person who influenced your decision to become an engineer?
My dad, who is an electrical engineer, as well as my uncle and grandpa, who are both mechanical engineers, played major roles in encouraging me to pursue engineering. They challenged me to take higher level math and science courses, as well as a Computer-Aided Design elective, but they also encouraged my creative side.