Q&A WITH engHERO: Ololade Sanusi
Ololade Sanusi is a current PhD candidate in Electrical Engineering at UOIT. She previously completed a Bachelor of Engineering in Aerospace Engineering from Carleton University and her area of research is in 'Novel Antenna and Integration Technologies for Embedded Wireless Sensors". Her biggest passion is to continue motivating and encouraging girls to venture and carve a niche for themselves in various branches of engineering.
1. What made you decide that you wanted to be an engineer?
It all started with being fascinated with the airplanes that flew past my house as a child. I always wondered about the persons that were part of the design and assembly of flying machines.
As I grew up, I began to observe more engineering feats. Engineers were part of designing skyscrapers, they were involved in medicine and the list goes on. When it was time to decide on what career to pick, engineering automatically became my choice.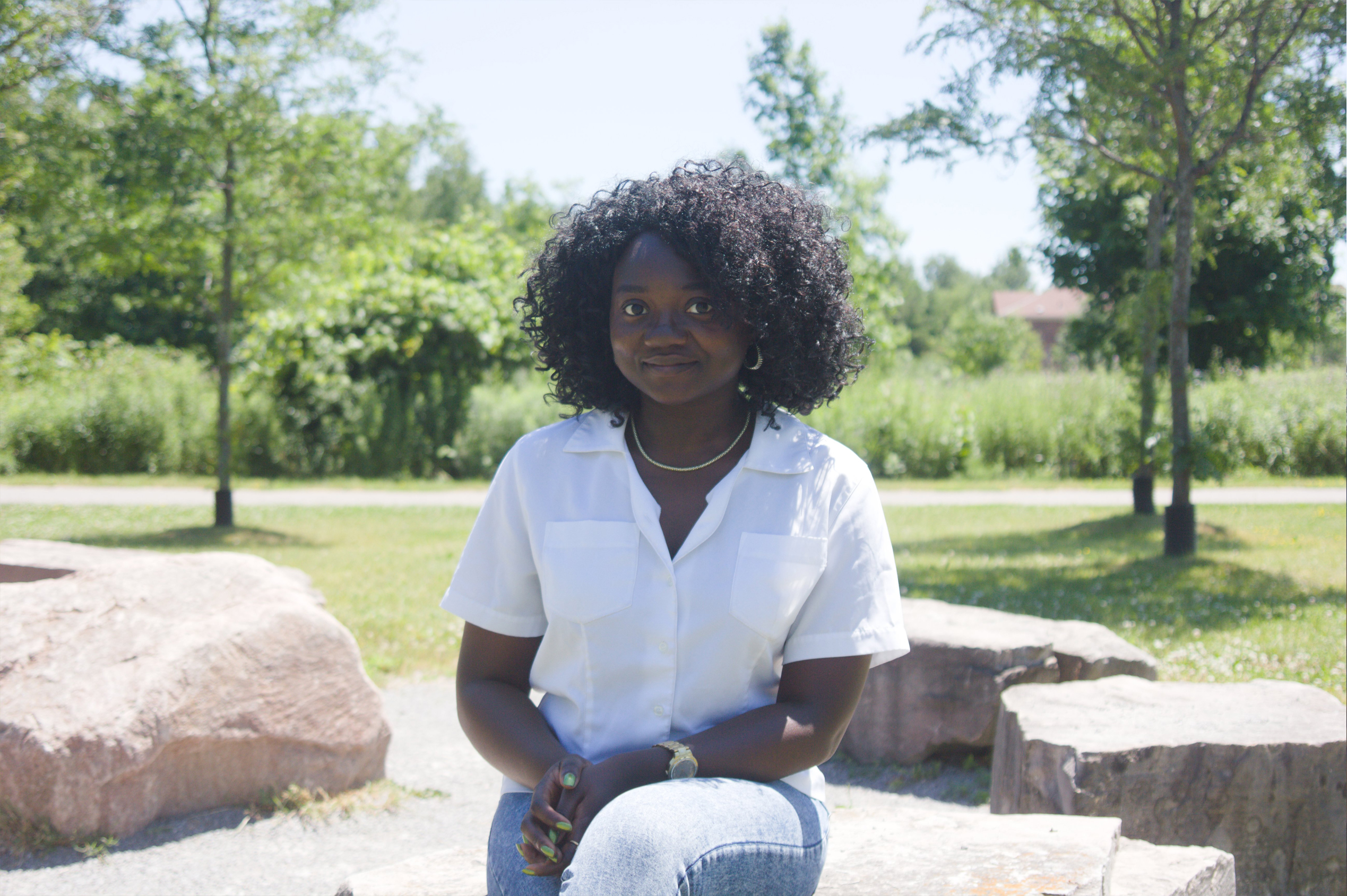 2. Which branch of engineering is your major? How did you decide on that specialty?
I now major in Electrical Engineering at the University of Ontario Institute of Technology (UOIT), Radio Frequency and Microwave Engineering to be specific. I did not always know I would end up in this field, a series of events got me here. During my undergraduate degree (Aerospace Engineering), I enrolled in two courses that sparked my interest in antenna design and wireless communication. Engineering has come a long way. For instance, many homes used rotary dial telephones for communication, now, we have thin stylish smartphones that can do more than just call and send messages. The world of electrical engineering has paved the way for smarter and faster devices with applications in telecommunications, medicine, defense and sensing.
3. What do you plan to do with your engineering degree?
Good question! I plan to work in the Research and Development industry and teach part-time, this way I can make a significant contribution to the advancement of adaptive antenna technology.
Although I don't know what the future holds, I hope and strive to be a solution in whatever I partake in.
4. What advice would you give to someone who's considering engineering but doesn't know if it's right for them?
I believe the image an average person has of an engineer is narrow. Engineering is vast and engineers can be found in different settings from Pixar Animation Studios to Bombardier Inc. So, I would start by asking a few questions:
Why did you consider engineering in the first place?
Have YOU done your research on engineering and its different branches?
Why do you think engineering might be wrong for you?
If you were to design something that would make your home (community, town or earth) more livable, what would it be?
If you have answers to all of these questions, I know you can determine whether or not engineering is right for you. My number one advice is to do YOUR research. Secondly, evaluate your strengths and weaknesses. And lastly, have a genuine reason for pursuing engineering, it doesn't have to be groundbreaking.
5. In your opinion, how do you feel about the lack of women in engineering? What are some ways you have positively contributed to inspiring more women in engineering?
Firstly, I do not agree there is a lack of women in engineering. However, I would say women are underrepresented and this is sad.
During my undergraduate years, I experienced the issues gender gap creates for women in engineering. There were times of isolation and loneliness that sometimes prevented me from participating in activities. My experience is not unique.
After chatting with various females, I realised many had notions that even prevented them from considering engineering as a career.
Nonetheless, the number of initiatives that promote and inspire more women in engineering is growing. I have been fortunate to be a part of some of these initiatives. In the year 2017, I was selected as a John Evans Champion by the Canadian Engineering Memorial Foundation. From award reception, I have been presenting to junior-high and high-school audiences in a bid to promote engineering as a career for women. I also serve as a mentor to undergraduate engineering students through the Women in Engineering Peer Mentorship program at UOIT. I find these experiences rewarding and eye-opening. They give me opportunities to share my experiences – failures and successes – as a source of encouragement for women considering engineering and those in undergraduate programs.
6. What are you up to this summer?
This summer I have been focused on my research. I am working on the design of flexible antennas for wireless sensor applications. Apart from research, I am exploring Ontario and taking French classes at a local college.