Caroline Via is an engineer working in the medical device industry. Her work can actually save lives! Carloine was undecided in high school, but fortunately, found her way to Queen's where they have a common first year.  I got to try out a little bit of each engineering discipline before I had to choose one. She believes "We need new perspectives on old problems and new perspectives on new problems." 
1. What's one thing you wish you knew about engineering back when you were in high school?
I wish that I knew that it's not all math or science. There is actually a ton of teamwork, communication, and problem-solving involved, and it is quite a social profession. Most of my time is spent brainstorming, planning, writing, researching, etc. The math and science are just one aspect, and the rest is quite inventive.
2. What's your proudest accomplishment as an engineer?
Last year I received my Master's of Biomedical Engineering from Boston University. It was definitely a highlight of my career, and I am very grateful to have completed my education in a city that I now call home!
3. Tell me about a time in your career when your work has been about discovery or curiosity?
My Master's project involved being in an operating room with a surgeon for a semester.  We were to observe, ask questions, learn, and then come up with an idea for a medical device to improve. We didn't have any medical experience, surgical experience, and the surgeons were told not to push us towards something that they wanted. It was a totally open-ended design process, and it sparked some really cool ideas – lots of discovery, curiosity, and creativity.  For me, it was a device that would potentially lower the complication rate of a fairly common surgery, without creating a high cost. It was amazing how much you can learn going into a new environment.
4. What are you doing these days?
I'm a Quality Engineer for Siemens Healthcare Diagnostics, Inc. in Boston. I'm currently working on a project to open a new manufacturing facility in Shanghai, China. I'm excited about it because it's something that is quite different from what my Master's was focused on, yet still in the medical world, and I love the diversity that engineering allows you.
5. Do you feel your work contributes to society? How so?
Absolutely! I'm in the medical device industry – our products literally save lives! Without engineers, there wouldn't be advancements or innovations in the healthcare system. People rely on engineers to keep them alive, and that is a huge task.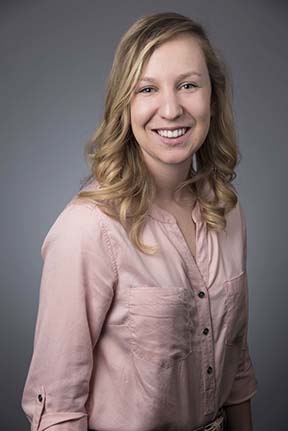 6. Why do we need more female engineers?
We need new perspectives on old problems and new perspectives on new problems. 
My Master's supervisor would quote Grace Hopper and say "The most dangerous phrase in the language is: it's always been done that way". It's a quote meant to spark innovation, but I like to think it applies to diversity as well. Just because engineering is traditionally a male-dominated profession, it doesn't mean it should stay that way!
7. Do you have any hobbies/passions that give you a unique perspective in engineering?
My hobbies don't always inspire my perspective on engineering, but engineering has certainly shaped my hobbies. Skills that I've learned for work have found their way into my hobbies.
8. When you were becoming an engineer, were you nervous and stressed out about all the math and science? What made you push through and become an engineer? Were you sure that you wanted to become an engineer when you were in gr12?
I was very undecided in high school, but fortunately, I went to Queen's where we have a common first year.  I got to try out a little bit of each engineering discipline before I had to choose one. 
I'm still not sure if I want to be an engineer forever, but the best part of engineering is that you learn how to solve multifaceted problems, and that can be applied almost anywhere.  Engineering is also a very diverse area, you can have tons of engineering jobs that are totally different from each other. Everything that I've learned throughout my engineering education is applicable to many other fields, and that is what I have taken from it the most.  
9. Tell us about a cool project you've worked on.
I worked on a non-invasive device for head stabilization during pediatric neurosurgery. Which is a long-winded way of saying I worked on making a special clamp to hold babies or kids heads in place during surgery. This was such an interesting project, and I really got test my skills in the real world. Impacting young kids lives is something that I never realized I could do, and now I have this project to remember whenever the going gets tough.