Are you a kinesthetic learner? Being stuck at home during the pandemic can make it really hard to find interactive and hands-on activities for engineering students. But, you may not need fancy equipment and expensive gadgets to make something cool. Here are 5 DIY projects that you can try out with supplies you already have at home!
Build a Da Vinci Bridge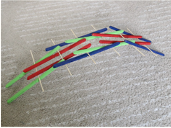 This self-supporting bridge was inspired by the design of Leonardo Da Vinci. You can experiment with the materials you use and the forces of compression and tension to see how much weight your bridge can withstand!
---
Hand Crank Winch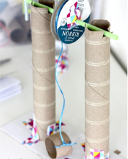 This is a simple catapult-like machine made of recyclable items in your home! Use your knowledge of projectile motion to build a functioning hand crank winch… and its lots of fun!
---
Mechanical Hand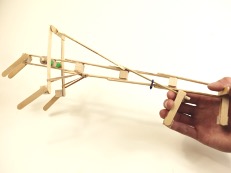 You can make this mechanical hand using a trigger connected to a hinge. You may need to go to the craft store for some of the materials but, once it's done, it works like a makeshift prosthetic hand!
Lifting Jack
With two plastic syringes and some popsicle sticks, you can make a hydraulic jack that can lift a load! This lifting jack demonstrates the concept of mechanical advantage by applying small force over larger distances to lift heavy loads with less effort.
---
Wrap A Fuselage
This is a very popular team challenge to make a human-powered wrapping machine for an airplane fuselage. The challenge is to make the machine function for 20 seconds, wrapping the fuselage with an even layer of fibre (yarn). Invite your family members along for this one and see which team can build a better wrapping machine!