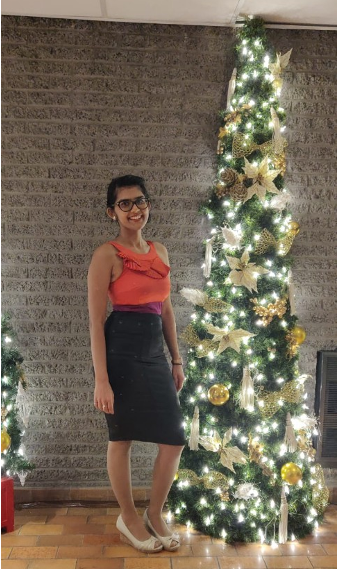 Q#1: What are you doing these days?
I work as a stress analyst in a landing gear place — it's called Heroux Devtek. Basically, my job is to make sure that the landing gear we design is structurally strong, and it's good for any kind of landing. I'm not sure if you remember the time the aircraft had to land on the Hudson River in the United States? So, we have to make sure the landing gear is intact and that it doesn't cause any problems.

Q#2: When did you know you wanted to be an engineer?
I actually knew in around grade 10. I was a part of this team that was called Formula 1 in school where we had to design tiny wooden cars that were propelled using carbon dioxide canisters. It would have to propel down 20 metres of track, and the challenge was to complete that in less than a second. Obviously, we couldn't finish it in less than a second, but we were pretty good. We went through nationals, even an international competition [after] that. So, that was an eye opener, and I absolutely loved my time working on it, so I wanted to be an engineer.

Q#3: How does your work contribute to society?
I think it helps make sure that people are traveling safely, because these days it's not just a car or a train; there's more to that then traveling. I also think it's very important that engineers know what they're doing because if a doctor messes up, I mean I'm sure it happens, but that is one life. If an engineer messes up, there [are] millions of lives at stake. I think me doing my job would really benefit society in that way.

Q#4: Why do we need more women in engineering?
Honestly, I just think that shouldn't be a question to be asked these days because women should be everywhere. We're in no comparison to guys, we're equal! We're in a world where everything [has equal value], where equality is something we shouldn't have to fight for. So, honestly, if a woman wants to be in engineering, she should be!

Q#5: Do you have any hobbies/passions that give you a unique perspective in engineering?
I do some puzzles here and there, but I don't really have a specific kind of hobby that gives me an edge to engineering. Engineering is my passion and my job but I do things outside of that as well to make myself a little bit well rounded — still not there yet.

Q#6: What advice would you give to young girls who are thinking about pursuing a career in the STEM field?
Don't get overwhelmed by who you talk to or who you see. Just think, what's going to make you happy. [What] if 20 years from now, your fear stopped you from doing something, or actually enjoying what you do? If you want to delve into [engineering], try different things like solving puzzles or playing games that stimulate your mind. And if that still inspires you, you should go into engineering! Don't get scared or overwhelmed by anybody you talk to who sounds like they know everything. No, we don't know everything!