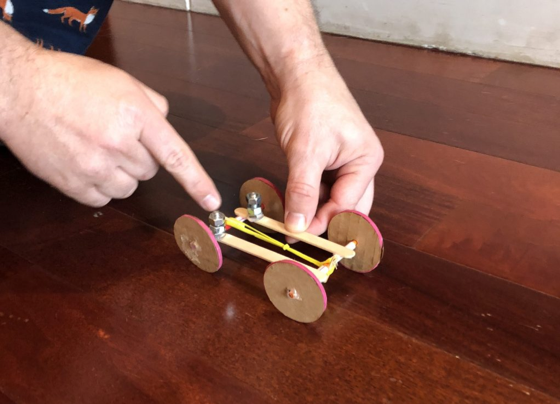 Mechanical Engineers focus on how to make things move and work, and cars are no exception! In this activity you will be practicing motion, elasticity and mechanics. Make sure to look up Newton's Laws of Motion after you finish to learn more about the science behind this activity!
You will need:
One Toothpick
Hot Glue
Hot Glue Gun
Five Rubber bands
Scissors
Straw
Two 4" dowels
Two 4.5" thick popsicle sticks
Cardboard
One-hole punch
Two bolts
Four nuts
STEPS:
Cut the straws into four 1" pieces.
Cut the toothpick into two halves.
Cut out four 2" cardboard circles for wheels. Punch a hole through the centre.
Fasten the remaining four rubber bands around the cardboard wheels to increase friction.
Twist one 4" dowel through the centre hole of one cardboard wheel to make an axel. Repeat with the other dowel and one other wheel. Leave the other two wheels to the side.
Secure the dowel to the wheel by hot glueing it together on the outside of the wheel. Repeat for both wheels.
Insert two straw pieces on each dowel.
Attach the remaining two wheels to the two dowels, and secure on the outside of the wheel with glue. You will now have two completed wheel-and-axles.
Separate the straw pieces on the dowel to each side, and hot glue a small toothpick piece in the centre of each dowel.
Hot glue one end of one popsicle stick to one piece of straw on the first wheel-and-axle, and then connect the other end to the second wheel-and-axle straw piece with hot glue. Repeat on the other side with the second popsicle stick. This is the chassis (framework) of your car.
Hot glue the bolts upright on the popsicle sticks at the back of your chassis near the wheels to add weight. Add nuts as needed, depending on the size and weight of your bolts.
Attach a rubber band to the front axle at the toothpick.
Connect the other end of that rubber band to the back axle on the toothpick, twist it to wind it up, and then let go for it to run.
Congratulations! You've just successfully completed a mini car.