Q&A WITH
engHERO:
Ann Makosinski
Ann Makosinski is an amazing young talented student who contributed in the field of engineering by creating a power-less battery and only using the human hand. She greatly impacted society positively and helped others without electricity see in the dark.
[bscolumns class="one_half"]
Q#1
What's your proudest accomplishment?
Bringing awareness to people who have no electricity, it's nice to help kids in counties without power.
Q#2
Tell me about a time in your career when your work has been about discovery or curiosity?
One of the times when curiosity came was when I was small and asking what is this? about everything around me. And trying to find out what it is like for example; bugs, questioning everything about me when I was small helped me along the way for a curious path into engineering in the future.
Q#3
What's your job now (title, company, description)? How did you get there (education, internships, mentors, other experiences)? Where did you think you were going when you started out?
I'm in high school, grade 11. I work at Kumon and have been attending since I was grade 3. I help kids read and write. My parents told me to join but later on, they (Kumon) offered me a job there. I wasn't that smart when I was young so I didn't know what to do, later my parents helped me with my studies by placing me there, it helped me a lot.
Q#4
Do you feel your work/invention contributes to society? How so?
Well, I hope my invention helps the society. I want to help others see in the night especially if they don't have electricity. I'm really looking forward for my invention in the future to be a useful device.
[/bscolumns] [bscolumns class="one_half_last"]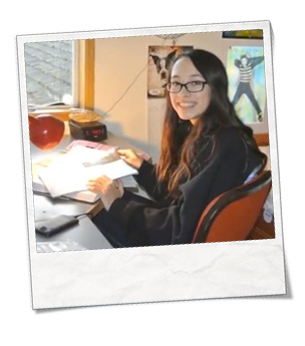 Q#5
Why do we need more female engineers?
We need more female engineer because females have bright ideas as men, and also the media is causing more stereotypes, so we really need to get the word out there and that woman have good ideas. Not all woman have to become for example housekeepers (not that they're bad) ,there are other opportunities out there for them.
Q#6
Why did you want to contribute in the field of engineering?
I just wanted to explore a bit. For example like my invention, I wanted to see if humans can create battery-less flash light. I was just interested.
++++++++++++++++
Check out this article on Ann
[/bscolumns]