Women in Engineering (WiE) is a common society within university engineering faculties, providing female engineering students with networking opportunities and exposure to the workforce. While joining WiE seems like an obvious choice for students hoping to develop their professional skills, the group is also an important resource for female students to build a community for themselves in a field where they may feel isolated.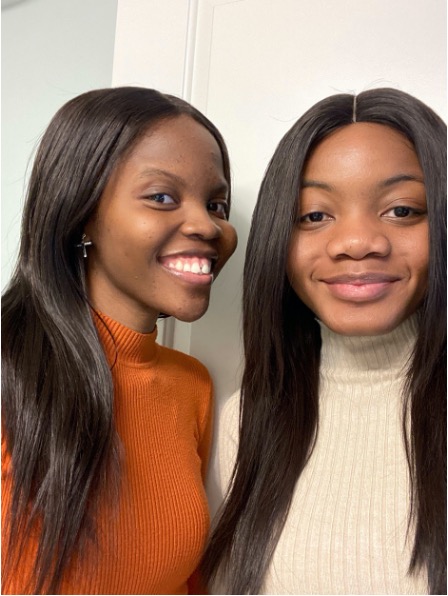 Meet Stella (right) and Chikodili (left), two Mechatronics Engineering students at Ontario Tech University whose lifelong friendship was formed through their school's Women in Engineering society.
How did you both discover Women in Engineering?
Stella and Chikodili both credit university advisors for introducing them to the Women in Engineering society on campus. They were told that joining the group would give them a way to get involved on campus, meet other female engineering students and participate in fun meetings and events.
How did you two meet?
The two girls first met in the fall of 2019 at the first WiE meeting of the school year. It was almost like a meet and greet party – there was food, music and plenty of opportunities to meet other WiE members in a light-hearted environment. Once the two girls realized that they were in the same program, their friendship blossomed.
Later, through WiE's Peer Mentorship program, Stella and Chikodili were coincidentally paired together as mentor and mentee. They both share that they are grateful for the stronger connection they got to form as time went on, which was fostered by WiE's emphasis on meaningful female connections.
What is your favourite part about being a member of Women in Engineering?
Stella's favourite part about being a member of WiE is the career exposure and connections to industry professionals that members get through their monthly events. One of her favourite memories has been touring ABC Technologies, a world leader in automotive systems and components manufacturing, and getting exposed to the working life of an engineer. Stella also says that being a part of a community where you feel welcomed and like you belong only makes the experience even more amazing.
Chikodili's favorite part of being a WiE society member is the engagement events, career workshops and outreach programming. She really enjoys meeting new people, developing professional and interpersonal skills, and the sense of community that is present at each event. She also says that it is hard not to enjoy an event when there is food present, which is a WiE staple.
If you could give advice to any future female engineering students who are nervous about finding friends in university, what would you say?
Don't be afraid and just put yourself out there! There's a whole community waiting for the awesomeness that you have to bring. Step outside your comfort zone because baby steps do take you a long way. The Women in Engineering society is a great place to start. Not only do you get to meet amazing people, they are experiencing the same student life that you are and serve as a great wealth of knowledge.
Stella and Chikodili both wish you all the best in your future university journey and want to remind you to shine bright like the star you are!