Engineering is a demanding pursuit. Every once and awhile you need to let loose and prank!
Here are 10 amazing #engPranks!
10) LET'S GET MARRIED
At the University of Michigan during a lecture a group of students assemble to put together a fake weeding. It begins with an a cappella group standing up and signing while the bridesmaids and groomsmen walk down the aisle to the front of the class. Followed by the entry of the groom from the side. Afterwards numerous students begin throwing rose pedals while the bride walks down the aisle. The priest enters and begins the ceremony. Soon enough another student objects to the marriage saying he wants the education he pays for every minute. Which causes students dressed as security to come in and take him out of the class. Then the students get married and the a cappella group sings as they all leave the room. This video is funny because the students put a lot of time and effort into it, there were many people involved and everyone went along with it (even the teacher).
9) EXAM FLASH MOB
This prank/flash mob took place at university of Toronto (#Represent) during the engineering exam so the beginning seems normal. Students sit down and concentrate on the paper. Till music comes on and the teacher starts asking what's going on and student after  student sing a verse but to everyone the teachers begin playing their violin. Shocker.
8) A BUG ON THE CLOCK TOWER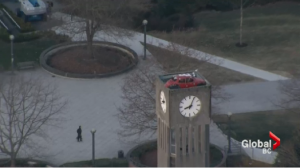 Engineering students at UBC decide to go to the extremes of pranking to bring back to their tradition of initiating this in the past, after a two year gap of no pranking. After seeing this, I wonder, how did they even get a beetle up to a clock tower, with the use of a gigantic ladder perhaps? Engineering students clearly think outside of the box when it comes to pranking. The engineering students have not stop with their pranks after their bold statement with the use of a volkswagon beetle since they also have "renovated" their Dean's office into a janitor's closet. It is amazing how the dean of UBC can laugh at the prank, and joke around with it as well. Maybe he was reminiscing about his old pranking days when he was studying in university? This video showcases the different ways UBC engineering students relive their stress from studying, completing labs and assignments, and writing examinations.
7) CHICKEN DANCE
This Prank only gets better after a student dressed in a chicken costume and performs the chicken dance at Michigan University during a lecture, a rather impatient and annoyed teacher decides to put an end to the interruption by, jumping over the desk and running after the chicken, this pranks reaction from the teacher made it all the more fun to laugh at !
This prank started with just a mild idea and in the end become a rather great and funny event.
6) AVAST YE MATEYS, WE'RE BOARDIN THIS HERE COMMENCEMENT
The engineering department at this college interrupted the graduation ceremony to pull a prank. They started playing music and all the students as well as the man giving the speech on stage were absolutely startled. The engineering students clicked a control and the system started to unravel a funny flag from the top of the stage. This was a funny idea because you could tell everyone was very tense and nervous about this graduation. Everyone got a good laugh out of it and you could tell it eased up the mood.
5) CAR ON A DOME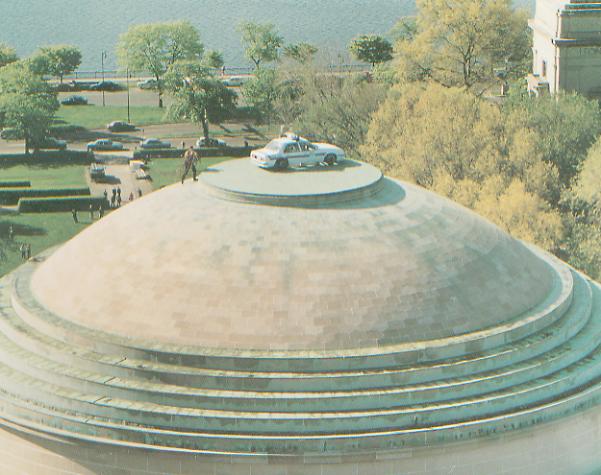 In May 1994 the Great MIT Dome was topped with a campus cruiser car fully assembled complete with a dummy driver. This car actually turned out to be a Chevy Cavalier which was broken apart and fully assembled a top the dome then painted to look like the cruiser. I love this prank not only because it took more than the usual amount of skill (building a car on a domed surface) but the car they chose to symbolize was one of authority and I find it funny and exciting how they manipulated that.
4) PLAY TETRIS WITH A BUILDING

Engineering students at MIT transformed one of the campus buildings into a giant and interactive Tetris game. Not only was this fun and visually entertaining but it blew up a popular culture fad of our age which was pretty ingenious in my opinion. It was accomplished by attaching coloured LED lights and controls and syncing them to input across the street at podium.
3) THIS IS NOT THE DROID YOU'RE LOOKING FOR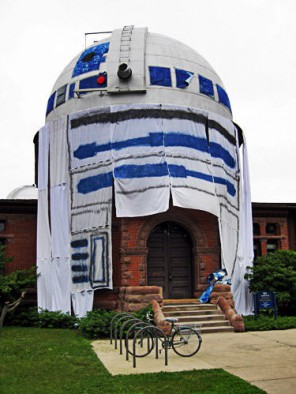 In 2010 the students at Carleton College transformed the Goodsell Observatory into the famous R2-D2 from Star Wars. This prank is particularly amazing because so much effort was required to create this work of art and the result was hilarious. The old building was simple and boring. Since pranking during the first year for engineering students was a tradition, the students took advantage of the opportunity to transform the typical building into something creative, new and funny. Lastly, for all the Star Wars fans in campus, this sight must have been a delightful surprise.
2) BLACK MAGIC
It is awesome because you expect one thing but see another happening due to the unique properties of Gallium. To the outside, it looks like an ordinary aluminum spoon, but give to a person to use to stir their tea/coffee/hot chocolate and the spoon will "disappear". It's a well known science and engineering prank. It is related to engineering because of their long tradition of using unique things in "ordinary ways" and flips the concept that all the things that engineers come up with are solely because they are helpful (they can play practical jokes too!). This video reveals how the trick is done (because Gallium has a different and lower melting point/temperature than stainless steel or aluminum.
1) EMBEDDING A CAR IN A TREE
Students from University of Western Ontario's faculty of engineering decided to play a prank on their entire school by "embedding" a car within a tree. It's awesome because it is technically impossible but made possible through engineering. It's funny to image how people would react to seeing a "floating" car in the middle of the green space, a bit surreal. The acronym ERTW is also painted on one side of the car. It apparently stands for "Engineers Rule the World". It really shows that engineers like to work hard (devising the prank) but also like to play hard (having a bit of fun despite their busy schedules).