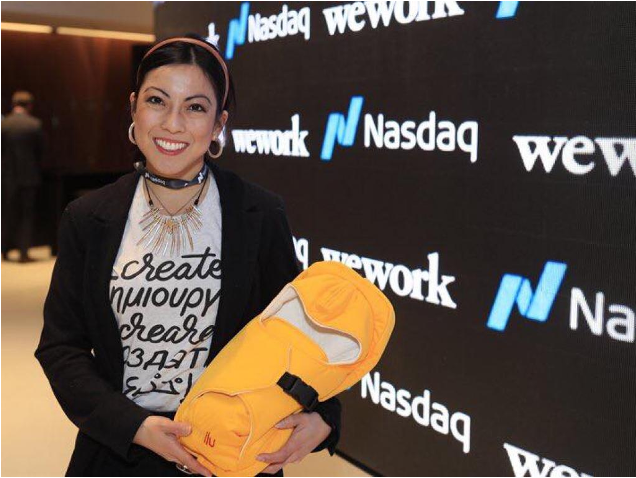 For many of us, it's hard to imagine going through the winter without your favourite sweater or coat – the things that keep us warm! Being exposed to really low temperatures for a period of time can result in a condition called hypothermia. Did you know that 1.5 million babies die from preventable and treatable causes every year according to the World Health Organization? And, that one of the preventable causes of death babies face around the world is hypothermia?
Grace Hsia, a materials science engineer, noticed this issue which led her to create Warmilu, a company dedicated to saving lives through spreading warmth!
The heating pack technology she worked on could produce heat by pushing on an activator disk, operating like a thermal battery and using stored heat. Unfortunately, it was prone to overheating. Grace and her team solved this problem by adding a thermal layer to act as a buffer. Once the heating pack is activated and placed within a pouch in a Warmilu blanket, it heats up, and can maintain a preterm baby's body temperature for 5-8 hours!
This has the potential to save tons of lives.
Infant fatalities caused by preventable hypothermia across the globe are normally the result of a lack of access to resources like electric incubators. Incubators are small enclosed beds that warm up babies to the temperature they should be. Newborn babies, especially premature ones, have difficulty regulating their own temperature so these devices provide the warmth they need to stay alive. In areas with limited access to incubators, infants occasionally have to share the device, with multiple babies in one machine, which is far from ideal.
Grace and her team's flagship product is thus a warming incubator blanket for infants, which is now distributed in 30 hospitals in 11 different countries.
Grace and Warmilu exemplify how you can use engineering to build a better world. Combining science and technology with social issues you care about is an incredibly powerful way to create change!
References
https://www.cake.co/conversations/9g8BY7f/grace-hsia-ceo-cofounder-of-warmilu-and-inventor-of-its-warming-technology-stops-by-for-a-cake-panel