Q&A WITH
engHERO:
Abigail Hutty
Abbie Hutty is a Spacecraft Structures Engineer at Airbus Defense and Space. She helped create the ExoMars rover , which is the Mars Rover prototype, and her job involves making technical decisions about the design development on the rover structure. She is an artist and an engineer and she won the IET Young Woman Engineer of the Year 2013.
Q#1
What's one thing you wish you knew about engineering back when you were in high school?
That engineering is part of pretty much everything in our daily lives, and how high tech and cutting edge technology is always developed by a team of engineers! When I was at high school I shared the common misconception that "Engineers" were the people that came out to fix your home appliances in their overalls- I didn't realize it included the design and development side too.
Q#2
What's your proudest accomplishment as an engineer?
There are satellites in orbit with bits on them designed by me! That's a pretty great feeling. You can see satellites sometimes with the naked eye, when the sun has set on Earth but is still shining on thing up in orbit- as they flash in the light from the sun they look like shooting stars. It's great to go out and look up and know that something on that "shooting star" was once just an idea in your mind, that you developed and perfected, had made, and is now functioning all that way away!
Q#3
Tell me about a time in your career when your work has been about discovery or curiosity?
A lot of Airbus' Science focused space missions are all about curiosity and discovery- exploring new worlds, imaging other planets, learning about our solar system, our galaxy, our universe. On a personal level though, the challenge of having to design such missions is so great that I am constantly having to learn about new things- for example today it was how the dust environment on Mars abrades the Materials we are designing our rover out of. You have to stay curious, and love learning new things and finding out about stuff like that.
Q#4
What are you doing these days?
I am a Spacecraft Structures Engineer at Airbus Defence and Space. My project is the ExoMars Rover- which means I am responsible for making sure the design is strong enough to withstand the launch, entry, descent and landing, and driving around on the surface, whilst also fulfilling all the secondary requirements that the structure fulfils- like thermal insulation, bio-containment, electrical grounding, and so on.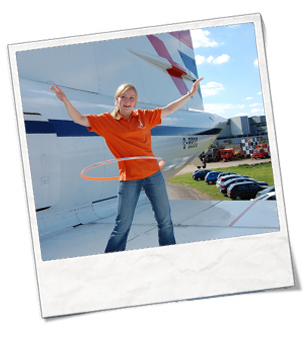 Q#5.
Do you feel your work contributes to society? How so?
My work is helping to further mankind's understanding of the Universe- so at the highest level, the findings from our missions contribute to society. On a more tangible level, though, discoveries and developments made in the Space industry to meet the unusual requirements up there, often then our found to have uses down on earth- like Teflon, which is now used on non-stick pans- that was developed as a Space material. You never know how something that you develop will one day be used.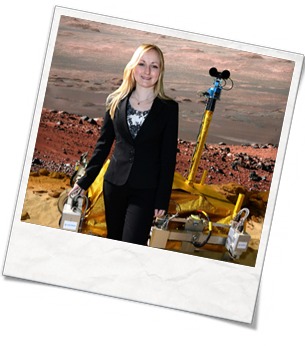 Q#6
Why do we need more female engineers?
We need more engineers in general- a lot of the world's biggest problems need engineers to fix them- power production, a growing population, an ageing population. Engineers, solve problems, and improve things. We don't have enough engineers qualifying now to meet the future demand- so we need to increase the numbers entering the profession. If we aren't targeting females as well as males we are missing out on half our potential recruits!
Q#7
What initially intrigued you to go into engineering?
I was first inspired to consider engineering when I saw a European Mars mission on the news, and saw that British engineers were working on parts of it. Knowing that such exciting projects were going on in the UK was a real light bulb moment for me- I had no idea. We always hear that high tech industries in the US or China are making these big leaps forward- but is going on all over the world, just some nations are less good at publicising their successes. Now I work on a Mars Mission- the very thing that inspired me to consider engineering in the first place!
Q#8
How did your project concerning the ExoMars Rover come about? What initiated this project? What new information do engineers and scientists plan to gain from this project?
ExoMars is a European Space agency mission- and its primary goal is to search for signs of life, past or present, on Mars. We have a large drill on board that can drill down up to 2m below the Martian surface, to where there is both protection from the harsh radiation environment at the surface, and where there are still water ice deposits. If life still exists on Mars, that's where we expect to find it! No rover mission has ever had the capability before to take anything other than surface samples- so this is a really exciting part of the mission. We could be answering the question of whether we are alone in the Universe, or whether there is life right here in our own solar system- that would be a huge discovery.
+++++++++++++++++
Check out Abigail on youtube: https://www.youtube.com/watch?v=81J40tcMDX4