Q&A WITH engHERO: Isabel Deslauriers
Isabel Deslauriers is the national coordinator of Let's Talk Science which organizes cool science activities for younger kids with the help of volunteers across the nation, with hopes of informing children about careers in science and engineering.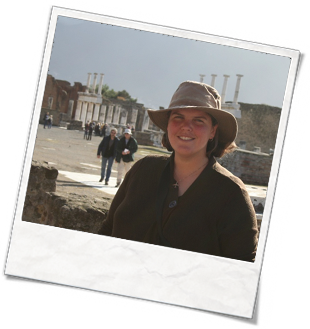 #1
What's one thing you wish you knew about engineering back when you were in high school?
I received a lot of information about engineering from my parents. I think that one thing that is good to know is that in engineering you pick what you want to do; there are many jobs available with the same degree, so you can choose the single thing that is best for you to do as a job.
Q#2
What's your proudest accomplishment as an engineer?
I think that my job, as a whole, impacts all the volunteers and kids who are involved with different projects. One of the most satisfying aspects is to able to help others discover engineering and their interests in it.
Q#3
Tell me about a time in your career when your work has been about discovery or curiosity?
There are two examples that I can think of. One is regarding me and using science to solve problems; I was working on cryptography and trying to discover the best code using different ways, and I really enjoyed the application of these skills and methods. The second one is when working with kids and seeing how they are amazed when discovering how to do something.
Q#4
What are you doing these days?
I'm a national coordinator of outreach at Let's Talk Science which is a non-profit organization that plans and does hands-on science activities with kids in order to make them interested in science. In terms of education, I have a bachelor's degree in electrical engineering. I was always interested in science and I attended a science camp during high school that made me interested in engineering, teaching and research. I also volunteered with Let's Talk Science, because it brought together my interests.
Q#5.
Do you feel your work contributes to society? How so?
I think that my work is helping to move our society towards making a better world. Especially because I'm part of a non-profit organization, I can really feel good about helping others make the most of their abilities.
Q#6
Why do we need more female engineers?
I think the question is that why aren't there naturally more female engineers? I think we should give a chance to any girls to know she can to in engineering. Boys and girls are equally interested in science up to grade 5, and girls tend to be less interested afterwards, which is still unclear why, but it could be caused by stereotypes and their surroundings.
Q#7
You have done some work related to beekeeping and RC airplanes. Could you tell me about them and what made you interested in them?
As a child, I was always interested in science, like playing with ants and experimenting with their lifestyle and what influences it. I was also interested in artistic and mechanical things. RC airplanes are one of my hobbies that bring my interests together.
++++++++++++++++
Check out Let's Talk Science