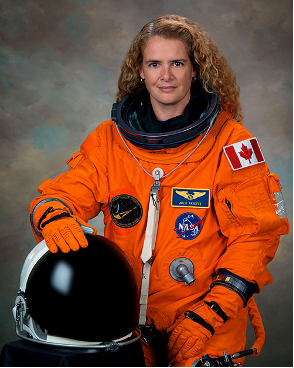 Quick facts!
Who: Governor General Julie Payette is an engineer, former NASA astronaut, scientific broadcaster and corporate director.
What: In 1992, Julie was selected for the Canadian Space Agency (CSA) astronaut corps. She was a part of two spaceflights and served as the CAPCOM (Capsule Communicator) for many more. She went on to serve as the CSA's chief astronaut for seven years.
Where: Julie graduated from McGill University with a degree in Electrical Engineering and from the University of Toronto with a Master's in Computer Engineering. During Julie's time in space, she worked on the International Space Station (ISS) and its Mobile Servicing System, now known as the Canadarm2.
When: Julie first visited space in 1999, and was the second ever spaceflight to the ISS. Her second spaceflight was in 2009 on the space shuttle Endeavor. In 2013, Julie retired from the CSA and in 2017, Julie was named the Governor General of Canada where she still serves today.
Julie was first invested into the Order of Canada in 2010, and is a Knight of the Ordre national du Québec. She stands as an inspiration to young girls that their dreams in STEM are within reach and is a role model to aspiring engineers and astronauts everywhere.