This ain't no typical all-inclusive week in the Dominican kind of journey. These women have been through a ton of fulfilling and challenging events that have formed their lives and careers. Seriously awesome, check it out.
The Great Journey of
engBEAUT:
Jennifer Littlejohns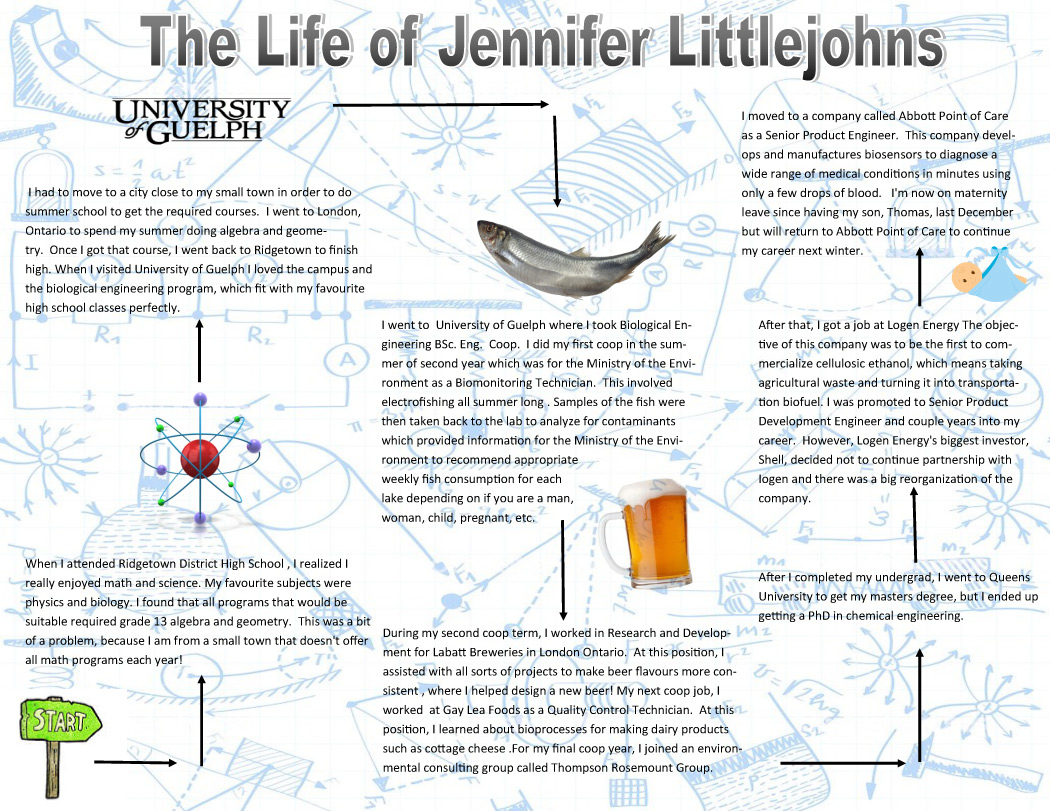 TELL US MORE!
[bscolumns class="one_half"]
Q#1
What's one thing you wish you knew about engineering back when you were in high school?
I guess in high school I probably wish that I knew what options are available for someone with an engineering background in terms of employment. I don't think people understand the wide range of engineering jobs that can come about with a degree, you know for example you can go into management of people or projects or you could do an actual technical job with calculations or you can go into sales there's really a wide range of opportunities when it come to an education in engineering. So I think that's misunderstood, in high school a lot of people think that engineering is always very technical calculations and you're going to be chained to a desk in an office doing math all day but I think really that is very rarely the case.
Really? Rarely?
Yeah it's not always that traditional engineering job, now it's more management that goes into it, more presentations, and relationships with marketing and sales like it's very unlikely to go into that traditional idea of what engineering is.
Q#2
What's your proudest accomplishment as an engineer?
Uhhmm, oh that's a tough one
That's what everyone has been saying! Well it could be a project you've worked on or something like that?
Okay well I'm going to have to say I worked for a company called Iogen Corporation and we were attempting to commercialize bio fuels. This unique process to make bio fuels from agricultural waste and my proudest accomplishment was probably when we first started making ethanol efficiently. I remember the first day when we were kind of making a net profit on the on the plants, that's probably my proudest accomplishment.
That sounds really interesting
Yeah it was really great to experience. You know when you work so hard towards something and it actually come true it's the quintessential biggest benefit of being an engineer it's when you…
Finally get the eureka moment?
Yeah! Like it works! It's so unbelievably satisfying it's pretty great. Are you going to be an engineer when you grow up?
I'm really looking into it now, being able to talk with all these different types of engineers, like I've had to do interviews with two other people and it sounds really interesting and there's a lot of different things you could go into with engineering there's so many different options. So yeah probably!
I think there really is. The biggest thing for a high school student I think is I somewhat fell into engineering.
Oh yeah? How so?
Yeah I honestly didn't know what it was about like I knew there was calculations and design and sure that's great, I'm a creative person, so sounds good but you can really get a job out of university. That's like the biggest benefit; you will find a job straight out of university. With a university education, there are very few streams where that is pretty much guaranteed right, but I'm sure you know that.
Q#3
Tell me about a time in your career when your work has been about discovery or curiosity?
Oh okay well I hold a PhD in chemical engineering and I work with research and development always, essentially. So my entire job is taking things from the bare bones and benders and then translating that into something manufacturable in an engineering sense. Creativity and innovation Is very important in my job, taking something from a theoretical idea to reality. Say a sensor, I work on sensors right now for the medical industry, taking a scientists concept of a sensor that would work and actually constructing something that we can manufacture efficiently in little time with little cost. You have to use every creative bone in your body to make that work. In a nutshell, my job has to always have that element of discovery and curiously.
That sounds crazy! I would be so stressed out thinking about how you have to take just a concept and change it and invent something totally new, does that element of stress ever get to you when you're working?
Well there's a lot of people and a lot of support so it's fine. The people are realistic, they all have realistic expectations of what can be done but you know, sometimes upper management expects the impossible. Although like I was saying before it's not just the traditional engineering there's also "okay I have to market this to upper management and kind of explain why this can't be done" you know what I mean? So that kind of falls into the other element of relaying to people what can actually be done and what can't. Don't worry it's not too stressful though.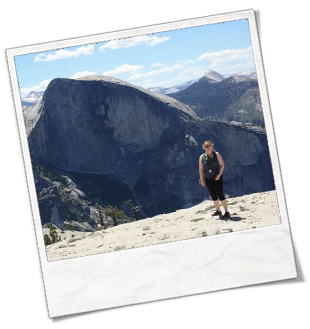 [/bscolumns][bscolumns class="one_half_last"]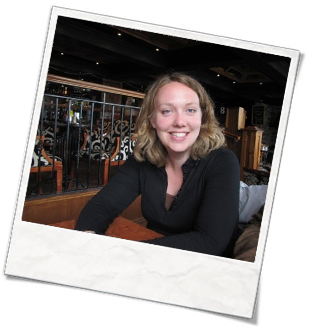 Q#4
What are you doing these days?
I work for a company called Abbott Point of Care and were manufactures of medical diagnostic sensors. Basically you can put a couple of drops of blood in a cartridge and then it tells you on the spot what's wrong with a patient, so you can do diagnoses in an emergency room very quickly instead of having to send it away to a lab to get analysed. My position is the senior engineer for the company. My job description, I work hand in hand with RMB as well as manufacturing and I'm kind of the middle man. I take the concept of a sensor invention from RMB and make it manufacturable. I went into engineering initially because I wanted to be a brewer, I wanted to brew beer.
Really? And that has to do with engineering?
Oh yeah that's totally engineering! So I did internships at Labatt brewery and different places like that and then I ended up going to grad school for bio reactor design, which is fermenters for beers and wine and things like that. That's what I ended up getting my PhD in. Then I worked for a company doing the same thing, making ethanol. Then about a year ago, two years ago now, I totally made a switch in my carrier path and I went into bio- chemical sensors. So same sort of degrees would apply but totally different research areas and I made a bit of a leap and that was due to pure interest.
You know it's funny, a lot of the engineers I have been talking to they've started out in one field and then half way through they just say "you know what this other thing sounds really interesting" and then they go and they change fields completely.
Yeah! That's the power of engineering too, a lot of the skills apply to a wide range of areas. You just have to figure out how to market yourself to say to a company "okay I have these skills and I have this background which could be different but I also can do this job if I apply my skills in a different way".
Where did you think you were going when you started out?
I didn't think that far ahead, I've got to be honest. I just did something that kind of sounded interesting, sounded cool, I didn't think about the long term. It was honestly a bit of luck that things ended up the way they did.
Q#5.
Do you feel your work contributes to society? How so?
Well I'm going to say yes because diagnosing patients more rapidly now, right on the bed side basically, means lower health care costs and more lives saved. It's really neat, very efficient, useful technology.
Q#6
Why do we need more female engineers?
I think first of all to be even, it should be even and it's not. Also because females bring a pragmatic sense to engineering and a level headed sort of methodical way to a project that I think is really beneficial.
And in your experience did you notice an overwhelming divide in male versus female enrollment in classes and in your actual workplace and stuff like that?
Not in undergrad I didn't, when I was doing my undergrad at Guelph, I mean it wasn't 50/50 but there were a lot of women in engineering. Then when I went to grad school I was one of only a handful that were in graduate school and those grad school positions are the ones that lead to upper management right? You see that in the workplace too, at the intermediate level you get pretty 50/50 with women and men but as you go up the ranks in the senior positions and definitely in executive there are not as many women. Why that is I do not know but there is something wrong with the system when that's the case.
Yeah I agree. So you said you went to the University of Guelph?
Yep for under grad
Did you like it there? Like I'm still in high school so I was just thinking "what universities are good for science and engineering?" and Guelph was one of the ones that I was looking at.
Oh I loved Guelph. Absolutely! It's got a really great campus, a really great feel. When I was there the engineering program was small, it was just starting out, and I think it's a bit bigger now but it's still on the smaller side. So with that you get really great professors that are really invested, you get a really good community of students. Yeah I would recommend Guelph. Also I did my grad school at Queens and I liked it because there's a lot of stuff there. The engineering environment there for an undergrad is a lot more intense then Guelph. If you're a more laid back person then I think Guelph would be the place for you.
++++++++++
Check out Jennifer's work
[/bscolumns]